FIBARO Smart Wallplug Z-Wave Plus 2500w V2
Kleine slimme tussenstekker met Z-wave chip en stroommeting
.
De gekleurde ledring is uitschakelbaar. Deze tussenstekker kan continue met 2500Watt belast worden met piekvermogens tot 3000 Watt. Standby verbruik is ca. 1 euro per jaar. Op de stekker zelf zit ook een schakelaar. Wat je er mee kunt, nou
dit
bijvoorbeeld.
Ingelogde klanten hebben een
voordeel
.
Lees meer
lees minder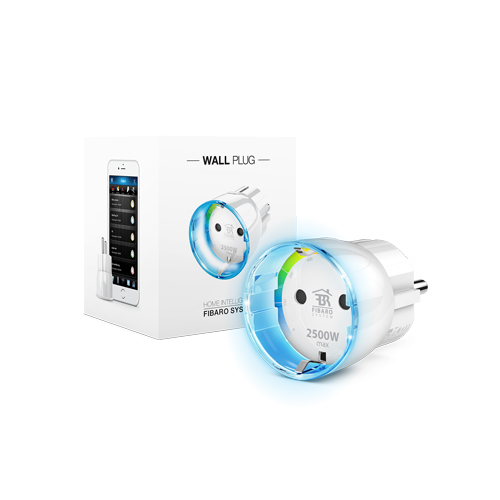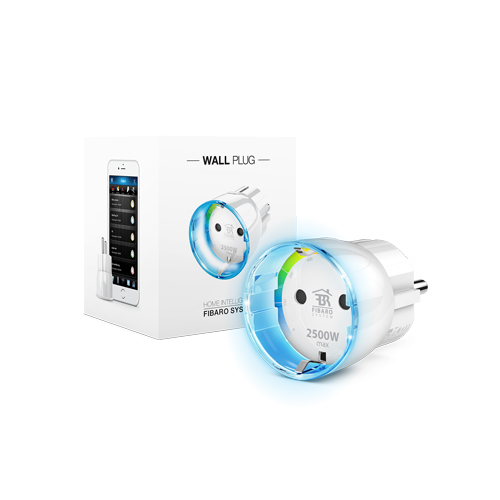 €57.50* €64.95*
Quantity
Item price
From

2

€57.00*
From

4

€56.50*
From

10

€55.00*
Voor 12:00. besteld, vandaag nog in huis
Waarom Robbshop
Standaard 2 jaar garantie
Voor 12:00 besteld, vandaag in huis. En anders morgen.
Meer dan 3000 positieve beoordelingen
6 dagen per week bereikbaar op +31 73 762 0 762
Samenvatting
In het kort
Merk

FIBARO

Artikelnr.

FIB_FGWPF-102-ZW5

Installatiegraad

Protocol
Plus- en minpunten
Superkleine tussenstekker
Neemt maar 1 stopcontact in beslag
Werkt ook met Toon van Eneco
Niet de goedkoopste die er is
Omschrijving
FIBARO Wallplug | The smartest wallplug of all
Smart plug that fits in a schuko outlet. Make every device with a schuko plug smart. Click here to see some applications.
This FIBARO Wallplug is made with the highest precision. Its more than just an on/off switch. The colored ledring for example indicates the amount of power taken from the grid, the color changes from green to red when powerconsumption increases (max 2500W). This function can be disabled by youre z-wave controller via parameter 61. in case of overload the ring will flash. In combination with the FIBARO Home Center 2 or Home Center Lite, the z-wave wallplug can also be used as a Z-wave network tester. And it can also be used as a nightlight for the little ones. This Z-wave module is perfect to locate the biggest power consumers in your house. The wallplugs are also able to connect with 'Toon' from Eneco.
FIBARO wallplug | Introduction
Video | FIBARO wallplug inclusion
Video | FIBARO Wallplug as rangetester
Video | How to reset the FIBARO Wallplug
If you still keep having problems, please read this document.
Did you know that there is a special FAQ for the FIBARO wallplug.
What else?
Child protection
This Z-wave wallplug is equiped with a build in safety feature against electrocution. This is a good thing to protect youre kids against unsage situations.
Malfunction report
This is the safest z-wave wallplug in the world, because it is impossible to short circuit a defect device. This provides you're electrical system with extra protection.
Maximum Load
When the z-wave plug has a througput of more than 2500 W the ledring will flash, and when the unit exceeds more than 55 degrees it will also sent an alarm.
Build-in z-wave network range tester
in combination with FIBARO's Home Center, check where z-wave coverage is good or bad. By keeping pressed the on/of button for a few seconds the Ledring will display the network strength.
Nightlight
With a nice blue iluminated ledring its possible to use the FIBARO wallplugs as a nightlight for the little ones. This ultra soft light can be activated by a short press on the switch of the wallplug.
Wireless update (only with Home Center 2 gateway)
This wallplug has an auto update function for its firmware in combination with the Home Center 2 or Home Center Lite. Dont waste time by connecting it to youre pc via a cable. Update are done remotely!
Toon meer
Toon minder
ROBB's advies
Één van de kleinste Z-wave tussenstekkers op de markt. Werkt ook met Toon van Eneco, Er zijn 2 uitvoeringen, met aardepin en met randaarde. Dit is de uitvoering met randaarde.
Toon meer
Toon minder
Reviews
---
Ik heb 3 van deze tussenstekkers in gebruik. In tegenstelling tot de Neo Coolcam, die ik regelmatig moet resetten, werken ze nu al maanden stabiel in combinatie met Homey. De hogere prijs wordt m.i. daardoor wel gecompenseerd.
Probleemloos, voelt goed aan maar of de kwaliteit goed is kan ik nu niet zeggen
De Fibaro tussenstekker vervangt een kapotte Neo Coolcam tussenstekker. Direct valt op dat het bereik beter is. Of de levensduur beter is, kan ik nog niet beoordelen.
Ook in de schuur werkt ie goed
Deze tussenstekker doet het goed. Ook in de schuur waar de temperaturen wisselen (en Qubino het laat afweten).
Alle problemen met een instabiel netwerk zijn verdwenen als sneeuw voor de zon door het toevoegen van een tweetal van deze tussenstekkers. Ze werken erg stabiel.
Gebruikt ze in combinatie met HC2 en deze tussenstekkers zijn subliem. Easy to use, kwalitatief hoogstaand en groot bereik. Tot nu toe heb ik er zo'n 12 in gebruik waarvan er tot op heden nog geen enkele de geest heeft gegeven. ( gebruik gemiddeld 2 a 3 jaar ). Al diverse andere merken geprobeerd, maar kom toch hierop terug gewoon omdat ze werken en bijna geen storing geven. Wel een min puntje is dat bv lampen niet te dimmen zijn via deze tussenstekkers.
moest 2x installeren voor die werkte (kan natuurlijk ook aan mij hebben gelegen) produkt doet wat hij moet doen. Vooral gekocht om het z-wave signaal te versterken naar een radiatorknop die erg verscholen zit achter apparatuur.
Nee, niet de goedkoopste maar wat mij betreft wel veel beter dan zijn goedkopere concurrentie van Neo Coolcam. In vergelijk met de Neo zijn het bereik en de mesh ondersteuning vele malen beter. Met de Neo's krijg ik de dekking niet geregeld, met de Fibaro's wel! Makkelijk te includen in mijn netwerk, de homey vindt ze meteen.
Gebruik icm ZWave stick & BeagleboneBlack met Domoticz. Direct herkend en werkt inmiddels continue volledig naar wens.
Na aankoop van een aantal watersensors bleek achteraf het bereik van de z-wave niet genoeg sterk te zijn. Na contact opgenomen te hebben met support hierover werd mij aangeraden om hiervoor een "FIBARO Tussenstekker Z-Wave Plus" te plaatsen. Na dit gedaan te hebben was het probleem verholpen en werkt echt perfect en door het hele huis heen. Echt super support en super te vrede er mee echt top. dank jullie wel.
Lees alle reviews
Verbergen
Volledige Specificaties
Algemeen
Werkt met

Homey

, Zipabox

, HomeSeer

, TahomaBox

, Home Center 3

, Zipatile

, Domoticz

, Vera

, Home Center Lite

Mogelijkheden

Schakelaar Aan/Uit
Handleiding
Download hier de handleiding(en):
Lekker laten installeren
Liever lui dan moe? Laat je producten dan installeren door onze smart home experts. Dan weet je zeker dat alles naar behoren werkt, zonder dat je zelf al die handleidingen moet uitpluizen! Laat ons alles voor je installeren én programmeren, dan kun jij leukere dingen gaan doen.
Dit wordt 'm!
FIBARO Smart Wallplug Z-Wave Plus 2500w V2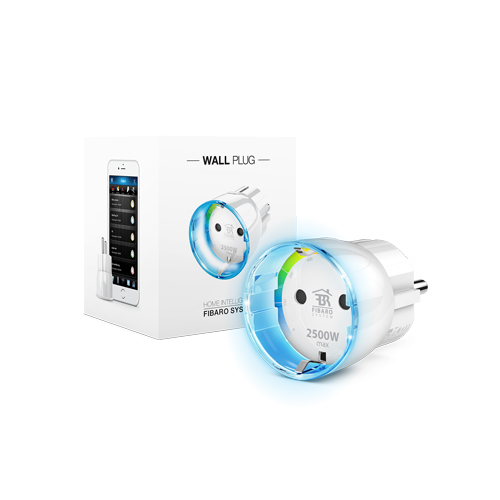 €57.50* €64.95*
Quantity
Item price
From

2

€57.00*
From

4

€56.50*
From

10

€55.00*
Voor 12:00. besteld, vandaag nog in huis
Waarom Robbshop
Standaard 2 jaar garantie
Voor 12:00 besteld, vandaag in huis. En anders morgen.
Meer dan 3000 positieve beoordelingen
6 dagen per week bereikbaar op +31 73 762 0 762