Mobile internet connection
Number of physical buttons
Toon meer
Toon minder
Power consumption in watts
Power over Ethernet (PoE)
Spring consumption in watts

Z-Wave Smart | Professional Wireless Smarthome protocol
Z-Wave is the market leader in wireless Smart Home technology (smart home). A brand-independent, affordable Domotica system with endless possibilities. It is the best wireless smart home system with more than 50 million applications worldwide.
Z-Wave is an energy-efficient wireless home automation system with which the most diverse devices can be operated automatically. Whether you want to secure your home, add comfort, luxury and convenience or want to live as energy-efficient as possible. Z-Wave offers an automated solution for everything. Without disturbing your Wi-Fi, because it works on a different radio frequency.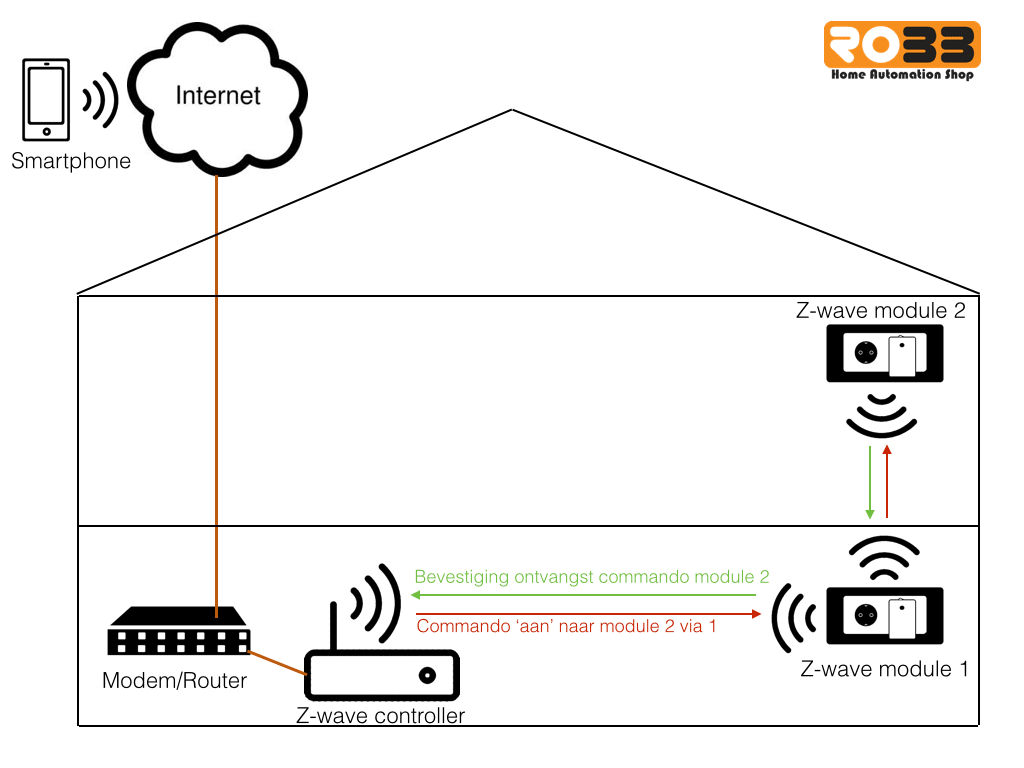 Advantages of wireless Z-wave home automation:

Simplicity - Z-wave can be easily retrofitted behind existing switches.

Mesh technology - The so-called transmission of signals. In fact, all connected devices can talk to each other and send signals to and from the base station. This makes your range much larger, the system more stable and there is less chance of interference.
Automatic feedback - Z-Wave always gives feedback on its actions in contrast to other Domotica systems. So you can always see the status of your Z-Wave controlled device.
Brand Independence - No, you don't have to stick to 1 brand! Z-Wave is brand independent, so you are not tied down. New products are added daily!
Affordability - Z-Wave is a brand independent, wireless and therefore affordable home automation system.
Whether you want to feel safe, experience ultimate comfort or live as energy-efficient as possible, Z-Wave offers it. For example, you can automatically receive notifications or photos on your mobile when a motion sensor picks up something around your house; can have your lights switch on automatically (and delayed) when your doorbell rings, but you are not at home; but you can also check from Ibiza if you really had turned off all your lights when you rushed to Schiphol because you had slept through your alarm clock; or how about automatically switching off the TV or computer when it is bedtime for your kids! Z-Wave offers endless possibilities.
Z-Wave is the energy (and therefore money) saver
Thanks to Z-Wave home automation you have direct insight into your energy consumption. Not only can you see the actual power consumption of your connected devices, but you can also create schedules to automatically switch equipment on and off. Z-Wave is the energy-saving standard for the future! A midweek Ibiza is quickly saved together.
A safe feeling with Z-Wave Smarthome
Z-Wave home automation also stands for safety. By automatically activating a siren in case of danger; or smoke detectors that automatically activate the alarm system, switch on the lights and send a notification to your mobile; a notification when doors or windows are open upon departure; keep an eye on your driveway from a distance (also at work). Whether you are at home or on vacation. There is an eye and action is taken if anything suspicious happens!
Z-Wave is comfort and convenience. Switch off all your devices at the touch of a button; check if your lights are all off via your mobile or tablet while on holiday; automatically close your shutters when it gets dark; turn your heating up a few degrees if you come home earlier.
Whether you want to switch on the radio for safety when you are not at home in the evening and the doorbell rings or switch on the garden sprinkler automatically in dry weather ... with the Z-wave home automation solutions from Robbshop you can do all kinds of things automatically in and around your house. arrange for. Life has never been so fun and easy.
A wireless smarthoome system based on Z-wave consists of a base station, one or more sensors and one or more actors (the control buttons of your equipment such as switches and dimmers). The sensors and actuators are connected to the base station. This base station can automatically control devices after you have entered predefined scenes (such as lights off when you leave a room or temperature lower when you leave your house). Manual control is of course also possible.
The big advantage of Z-Wave is that connected modules transmit the signal from the base station to each other, so that your range is larger and more stable than with normal Domotica.
You operate with your mobile or tablet via the internet. Wherever you are in the world.
What to know more?

On our projects page you will find an overview of our Domotica projects.

Visit our store in Oss (just call in advance).

Follow a smarthome training at ROBBshop.

Also read our Zigbee vs Z-wave blog.