Number of physical buttons
Power consumption in watts
Power over Ethernet (PoE)
Spring consumption in watts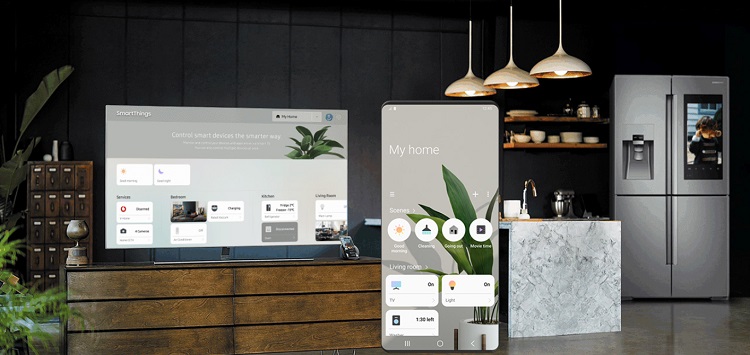 SmartThings Hub
Krachtige en zéér betaalbare smarthome gateway
Wanneer de naam domotica of smarthome genoemd wordt, kijken veel mensen nog steeds of ze water zien branden. Maar dit is toch écht helemaal van deze tijd: slimme lampen, die op elk gewenst moment aan en uit gaan. Een slimme deurbel die je een melding geven als er iemand aan de deur staat, een slimme thermostaat die ervoor zorgt dat het op de juiste momenten warm is en ga zo maar door.
Je huis slim maken kan op verschillende manieren en met verschillende communicatieprotocollen. Een protocol is eigenlijk een soort taal waarin een product met een ander product praat. Zo kennen we vaak allemaal wel protocollen zoals Bluetooth en Wifi. Als we kijken naar smarthome dan zien we vaak de protocollen Z-wave, Zigbee (oa. bekend van Philips Hue en IKEA) en 433Mhz (bekend van KlikAanKlikUit) terugkomen. Om deze protocollen aan te sturen heb je een basisstation nodig die met deze signalen overweg kan. Een basisstation kun je zien als een soort router van je slimme netwerk. Zo'n basisstation kan enerzijds signalen verzenden (zet de lamp aan) en anderzijds signalen ontvangen (er is beweging gedetecteerd door een sensor). Zie het als een soort tolk voor al je slimme apparaten.
Nu is het zo dat veel van deze basisstations gefocust zijn op één specifiek protocol, soms twee maar dan houdt het vaak op.
Deze SmartThings Hub, oorspronkelijk ontwikkeld door Samsung ondersteund maarliefst drie van deze protocollen! Namelijk Zigbee , Z-wave én WiFi. En dat allemaal in dat ene kleine kastje!
Het product is recent overgenomen door Aeotec, een merk dat al langer actief is op de smarthome markt met een behoorlijke Z-wave productrange.
Wij hebben eens rustig de tijd genomen om te kijken hoe het systeem werkt en wat je er allemaal mee kan: hierover dus meer in deze blog.

Eenvoudige installatie
Het installeren van het systeem is vrij eenvoudig. Je installeert de SmartThings app op je smartphone, haalt het systeem uit de doos, sluit hem aan op de stroom en je kan hem al direct verbinden met je lokale WiFi netwerk. Je kan er ook een internetkabel op aansluiten voor een stabielere internetverbinding maar dat is dus niet noodzakelijk. Dit zorgt er voor dat je de hub overal in huis kan plaatsen wat een voordeel is. Ons advies is altijd om een bassisstation zo centraal mogelijk in huis te plaatsen.
Daarna worden eventuele updates op het systeem geïnstalleerd (kan even duren) en dan kan het spelen beginnen.


SmartThings werk met
Apps en integraties
Je staat ervan versteld wat deze hub allemaal ondersteund. Producten van vele tientallen merken kunnen probleemloos worden aangemeld door de ingebouwde compatibiliteit. Denk hierbij aan producten van merken zoals Sonos, FIBARO, Philips Hue, IKEA, Frient, Samsung en nog véél meer…
Hieronder zie je een overzicht van een aantal apps dat standaard al ondersteund wordt door deze hub.
Hieronder zie je hoe de ROBB SMARRT dimmer in de app van de SmartThings hub wordt weergegeven. Links zie je de bevestiging in het scherm dat de module succesvol is aangemeld, in het midden het uitgeklapte scherm met opties (met onderin de handige dimstappen in bolletjes weergegeven) en helemaal rechts het hoofdscherm met daarin al je kamers en de daarin toegewezen apparaten. Zo je hou je eenvoudig het overzicht.