Maak je huis slim met SmartThings
SmartThings is ooit ontworpen door Samsung als platform om al je slimme apparaten met elkaar te laten communiceren. Tegenwoordig is de Samsung SmartThings hub veranderd in de Aeotec SmartThings Hub V3. Aeotec is een bedrijf dat al langer actief is op de smart home markt. Met behulp van SmartThings kun je middels een appje of via spraaksturing eenvoudig alles in huis bedienen. Met de SmartThings app kun je allerlei apparaten bedienen die werken op wifi zoals bijvoorbeeld een slimme thermostaat of deurbel. Hier heb je niet eens een hub voor nodig. Wil je apparaten aansturen die werken op draadloze protocollen zoals Zigbee en Z-wave (hierover later meer) dan heb je een SmartThings Hub nodig die er voor zorgt dat alle apparaten met elkaar kunnen communiceren.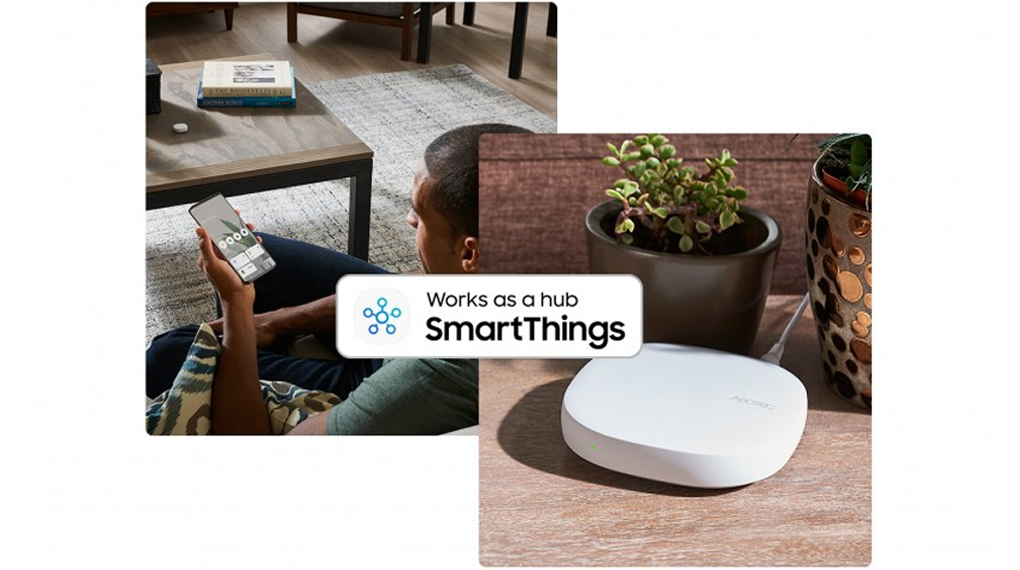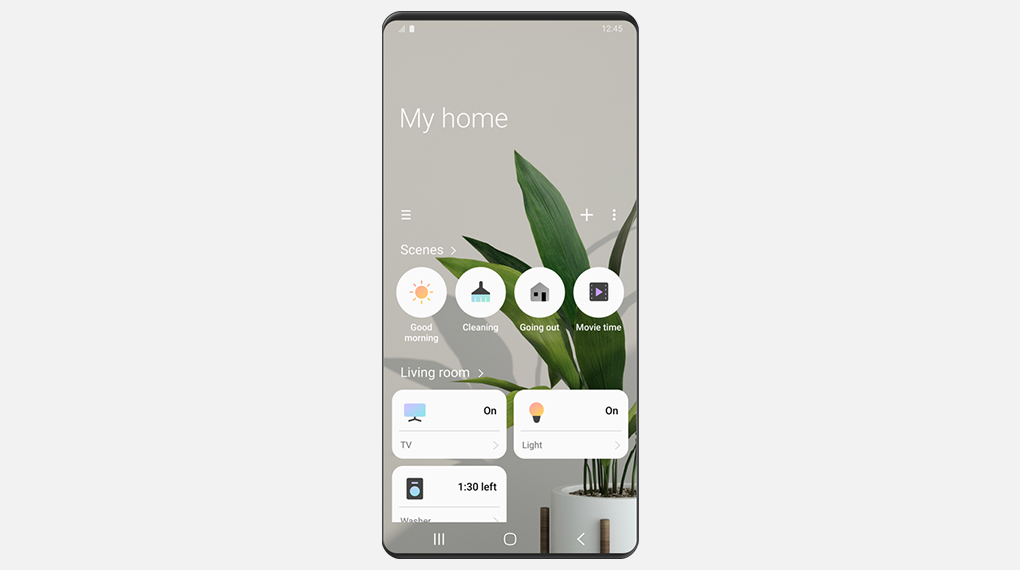 SmartThings App
SmartThings werkt via een app op je telefoon. Ondanks dat SmartThings ooit bedacht is door Samsung kun je de app zowel gebruiken voor iOS als voor Android. Via de app kun je alle apparaten bij elkaar brengen. Zo hoef je dus niet meer te werken met allerlei losse appjes voor je smart home producten. Door de app wordt SmartThings leuk want daar kun je dingen mee gaan automatiseren. Zo kun je je verlichting automatisch aan laten gaan als de zon onder gaat of start je met één druk op de knop een bioscoopscene waarmee je Samsung SmartTV aan springt, je speakers aangaan en je verlichting zachtjes gedimd wordt. Als je een SmartThings Hub gebruikt dan kun je ook via de app je huis in de gaten houden en apparaten bedienen op afstand. Zo kun je bijvoorbeeld op afstand je alarmsysteem aanzetten als je dit vergeten bent.
Samsung SmartThings
SmartThings biedt een naadloze integratie met de slimme apparaten van Samsung. Zo kun je bijvoorbeeld je Samsung TV koppelen maar ook je droger, koelkast, oven, wasmachine, vaatwasser, robotstofzuiger en nog véél meer apparaten. Samsung heeft SmartThings verwerkt in allerlei apparaten zoals tablets, telefoons, koelkasten en smartwatches. Zo heb je altijd een scherm in de buurt waarmee je je huis kunt bedienen.
Maar er is meer!
Naast de producten van Samsung kun je ook allerlei bekende merken aansturen. Zo kun je de verlichting van Philips Hue aansturen, kun je eenvoudig je Sonos speakers koppelen en kun je bijvoorbeeld een slimme deurbel koppelen zoals de Ring video deurbel of de slimme thermostaat van Nest. Om te zien wat er allemaal met SmartThings werkt kun je de gratis app downloaden en zien welke producten en merken er allemaal al ondersteund worden.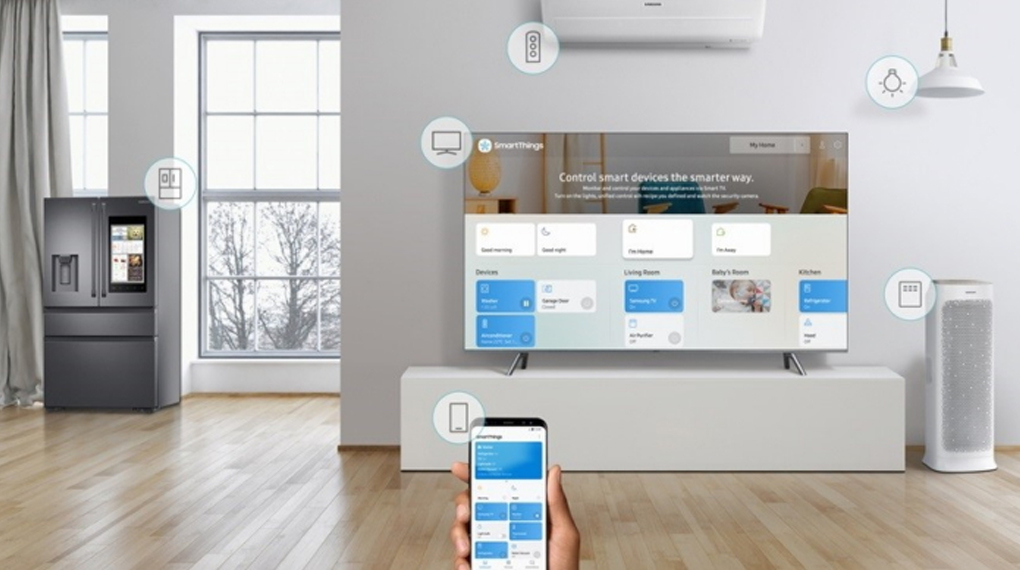 SmartThings Sensoren
Als je gebruik maakt van de SmartThings Hub, dan kun je naast slimme apparaten die of wifi werken en apparaten van Samsung nog veel meer aansturen. Zo kun je bijvoorbeeld alle SmartThings sensoren aansturen. SmartThings biedt een heel pakket met sensoren zoals bewegingsensoren, deursensoren, slimme knoppen, waterleksensoren en een 360 camera voor een hele interessante prijs. Met deze sensoren kun je nog meer uit je smart home halen. Zo kun je op basis van beweging de lichten aan en uit zetten of bouw je je eigen alarmsysteem.
Z-wave en Zigbee ondersteuning
Zoals eerder genoemd in dit artikel ondersteund De SmartThings hub Z-wave en Zigbee. Dat zijn veelgebruikte smart home protocollen. Een protocol is best wel een belangrijk begrip. Hier wordt het ook gelijk wel een beetje technischer. We leggen het even in Jip en Janneke-taal uit. Een protocol kun je zien als de taal waarin producten en smart home hubs praten. Zo kennen we waarschijnlijk allemaal het protocol Wifi of Bluetooth wel, maar deze zijn voor het grote werk niet echt geschikt. Z-Wave en Zigbee daarentegen zijn de grote jongens. Zo wordt Zigbee veel gebruikt voor slimme verlichting. Het wordt bijvoorbeeld gebruikt door merken zoals Philips Hue, IKEA en Xiaomi. Z-wave is al wat langer actie op de smart home markt en wordt voor het complete pakket gebruikt. Denk bijvoorbeeld aan rolluikschakelaars, dimmers, bewegingssensoren, slimme stekkers en nog veel meer. Met behulp van deze protocollen kun je eigenlijk alles in huis slim maken.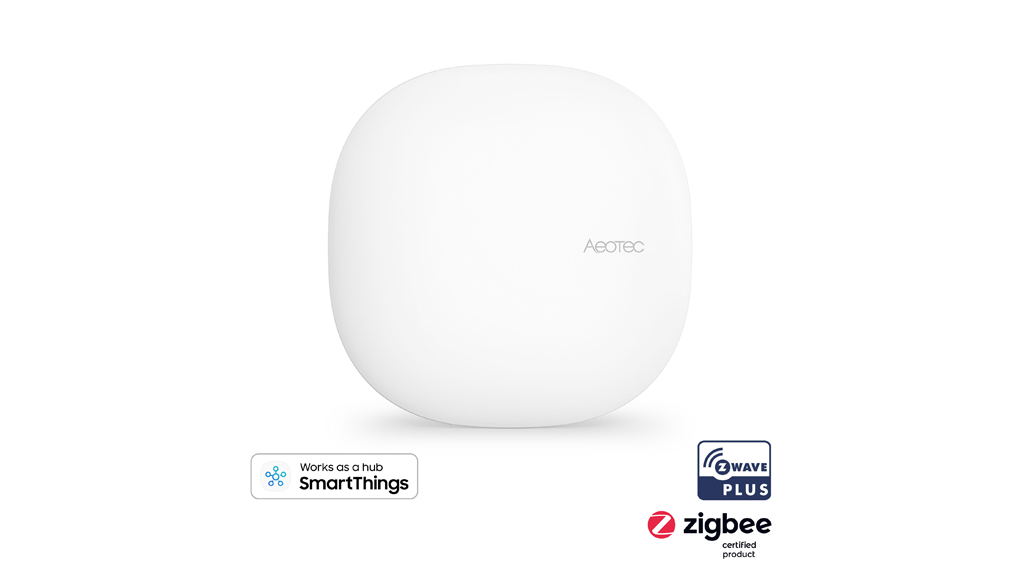 Zo stel je voice control in
Spraaksturing via Google Assistant, Alexa en Bixby
Hey Google! Start movie-time! Zie je het al voor je dat je lekker lui op de bank kunt blijven hangen en dat alles automatisch in gang wordt gezet. Lampen gedimd, tv aan, speakers aan, gordijnen dicht en de romantische filmavond kan beginnen.
Doordat de SmartThings Hub spraaksturing van onder andere Google Assistant, Amazon Alexa en Bixby ondersteund is alles mogelijk! Wij zeggen daarom ook altijd liever lui dan moe ;-)