Flic 2 Smart Button Duo Pack
Stuur je slimme apparaten zoals Sonos en Philips Hue eenvoudig aan met deze superleuke mini knopjes van Flic. Per knop worden 3 acties ondersteund en je kan ze personaliseren met de juiste icoontjes voor iedere toepassing.
Lees meer
lees minder
Werkt Met Sonos & Hue
Bluetooth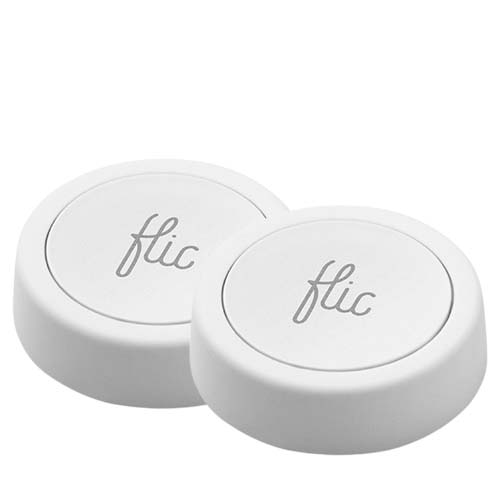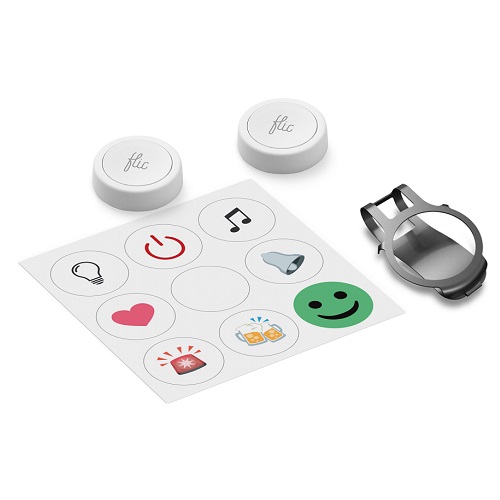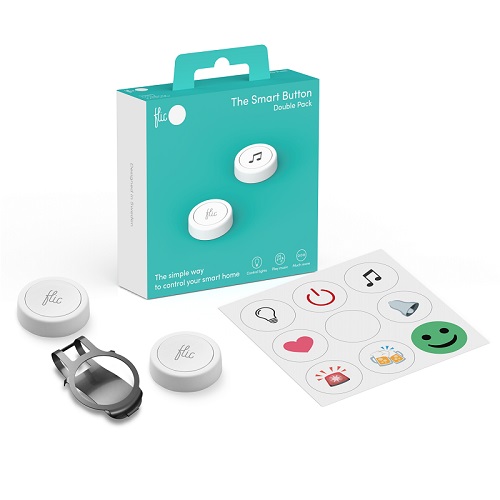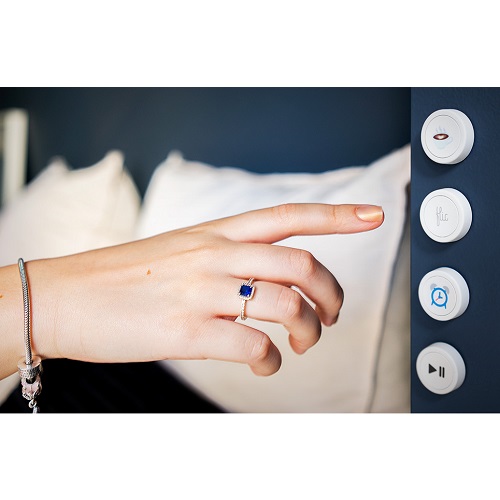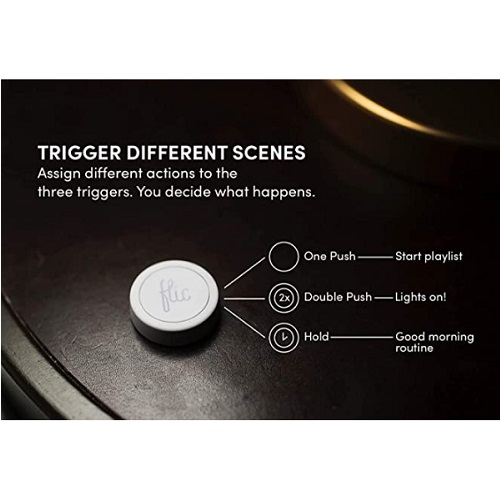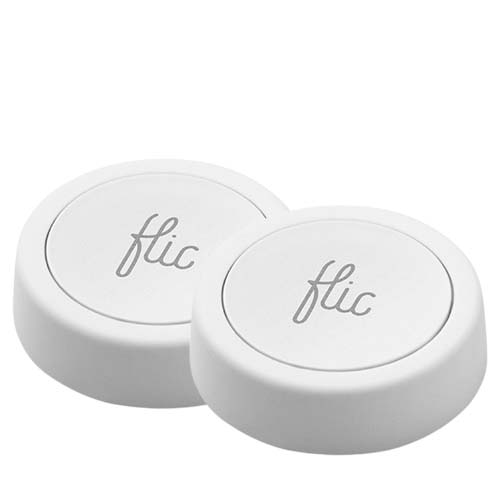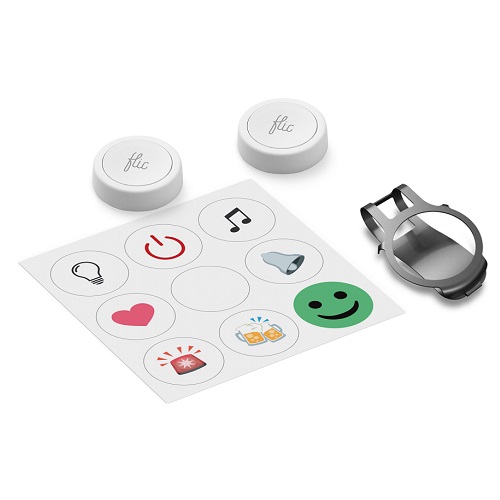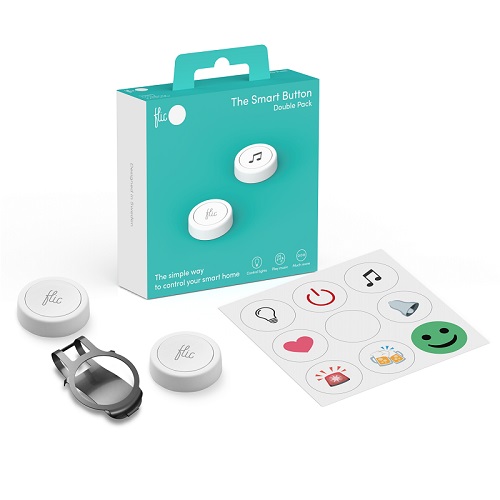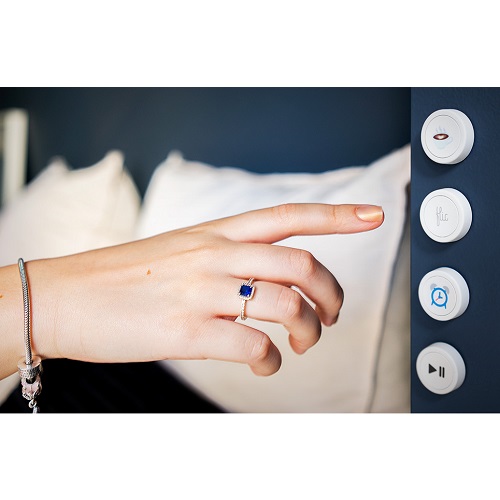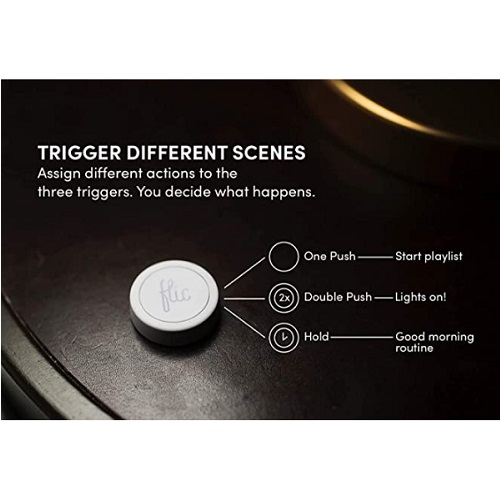 SKU:
FLI_BUTTON_DOUBLE_PACK
Werkt Met Sonos & Hue
Bluetooth
Vor 12:00 Uhr. bestellt, heute geliefert
Why Robbshop
2 year warranty
Ordered before 12:00 on working days, delivered today.
More than 3000 positive reviews
Smart home service, knowledge and advice
Available 6 days a week on +31 73 762 0 762
Standaard 2 jaar garantie
Voor 12 uur besteld, morgen in huis*.
Meer dan 3000 positieve beoordelingen
Smart home service, kennis en advies
6 dagen per week bereikbaar op +31 (0)73-7620762
Related products
Summary
Reviews
Alternatives
Specifications & Manual
More from this brand
Samenvatting
In het kort
Merk

Flic

Artikelnr.

FLI_BUTTON_DOUBLE_PACK

Installatiegraad

Makkelijk

Protocol

Bluetooth
Plus- en minpunten
+
1 knop waar je alles mee kan bedienen
+
Vrijwel onzichtbaar te plaatsen
+
Stickers met icoontjes meegeleverd
-
Voor integratie met Homekit is de Flic hub benodigd
Omschrijving
Flic 2 Smart Button Duo Pack
Steeds meer huishoudens beschikken over slimme apparaten, maar hoe stuur je die eenvoudig aan? Je hebt niet altijd je telefoon bij de hand en in sommige gevallen moet je dan toch naar het product lopen om deze handmatig aan te zetten. Dat is voorbij met deze buttons van Flic!
Deze kleine knopjes van 3cm doorsnee kunnen op iedere gewenste plek in huis worden gemonteerd. Je plakt ze eenvoudig op de muur of onder je tafelblad. Nadat je de knop gekoppeld hebt kan je met één druk op de knop je Sonos af laten spelen of je favoriete verlichtingsscenario starten binnen Philips Hue. En inmiddels zijn er al meer dan 1.000 producten die samenwerken met Flic.

Per knop kunnen er 3 acties worden getriggerd door:
- 1 x drukken
- 2 x drukken
- vasthouden
Deze duopack bestaat uit 2 buttons en een stickervel om deze nog te personaliseren met bijvoorbeeld een muzieknoot, lamp of aan/uit logo. Voor meer opties zijn er ook losse stickervellen beschikbaar.
Wanneer je nóg meer functionaliteit uit je Flic buttons wil halen kan je de bijpassende hub aanschaffen. De buttons werken standaard al met Homey Pro, SmartThings en Sonos. Dit loopt dan via de app op je smartphone, dus deze heb je hier wel nog voor nodig!
Er is ook een single pack van de button verkrijgbaar.
Toon meer
Toon minder
ROBB's advies
Wauw! Een button die out of the box meteen werkt met systemen als Sonos, Hue en Homey. Werkelijk geniaal. En ook nog eens onopvallend te plaatsen
Toon meer
Toon minder
Volledige Specificaties
Algemeen
Available app

iOS

, Android

Colour product

Matte white

Confirmation

Wall mount

, Clip

Number of physical buttons

1

Smart functions

Wireless switch

Works with

Smartthings

, Homey Pro

, Apple HomeKit

, Ikea

, Sonos

, Philips Hue

, Elftttt
Handleiding
Download hier de handleiding(en):
Lekker laten installeren
Liever lui dan moe? Laat je producten dan installeren door onze smart home experts. Dan weet je zeker dat alles naar behoren werkt, zonder dat je zelf al die handleidingen moet uitpluizen! Laat ons alles voor je installeren én programmeren, dan kun jij leukere dingen gaan doen.
Dit wordt 'm!
Flic 2 Smart Button Duo Pack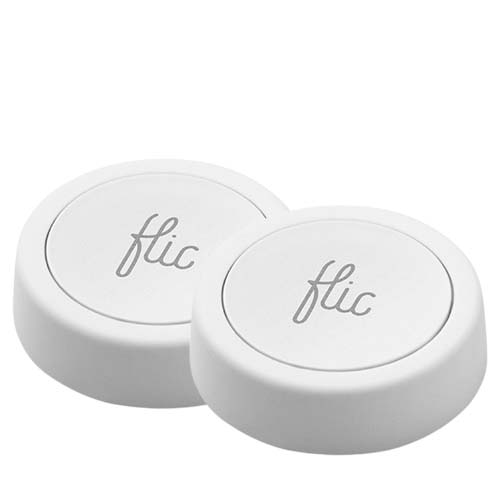 Vor 12:00 Uhr. bestellt, heute geliefert
Why Robbshop
2 year warranty
Ordered before 12:00 on working days, delivered today.
More than 3000 positive reviews
Smart home service, knowledge and advice
Available 6 days a week on +31 73 762 0 762
Standaard 2 jaar garantie
Voor 12 uur besteld, morgen in huis*.
Meer dan 3000 positieve beoordelingen
Smart home service, kennis en advies
6 dagen per week bereikbaar op +31 (0)73-7620762
Vor 12:00 Uhr. bestellt, heute geliefert