Fibaro Smoke Sensor 2 Z-Wave Plus
Een slimme rookmelder kan veel meer dan je denkt. Natuurlijk piept hij bij onraad, maar doordat hij slim is geeft hij ook een melding aan de smart hub. Deze kan dan de lampen aandoen, de gordijnen open en iedereen een bericht ontvangt.
Lees meer
lees minder
Why Robbshop
2 year warranty
Ordered before 12:00 on working days, delivered today.
More than 3000 positive reviews
Smart home service, knowledge and advice
Available 6 days a week on +31 73 762 0 762
Standaard 2 jaar garantie
Voor 12 uur besteld, morgen in huis*.
Meer dan 3000 positieve beoordelingen
Smart home service, kennis en advies
6 dagen per week bereikbaar op +31 (0)73-7620762
Ordered before 23:59, delivered tomorrow
Why Robbshop
2 year warranty
Ordered before 12:00 on working days, delivered today.
More than 3000 positive reviews
Smart home service, knowledge and advice
Available 6 days a week on +31 73 762 0 762
Standaard 2 jaar garantie
Voor 12 uur besteld, morgen in huis*.
Meer dan 3000 positieve beoordelingen
Smart home service, kennis en advies
6 dagen per week bereikbaar op +31 (0)73-7620762
Bundles
Related products
Summary
Reviews
Alternatives
Specifications & Manual
More from this brand
Save with our bundle offers
Samenvatting
In het kort
Merk

Fibaro

Artikelnr.

FIB_FGSD-002-ZW5

Installatiegraad

Gemiddeld

Protocol

Z-Wave Plus
Plus- en minpunten
+
Werkt ook met toon van Eneco
-
Werkt niet op netspanning
-
Schroefgaatjes zelf boren in achterkant
-
Niet onderling koppelbaar
Omschrijving
Eye pleasing, minimalistic design with Z-wave plus chip
Almost all smoke sensors available on the market were designed with just one objective in mind – discovering potential threats. Hardly any of the manufacturers paid any attention to design. Naturally, smoke sensor is to save lives. However, like most of other sensors, smoke sensor is a device installed in visible places, e.g. on ceilings. That's why our designers decided to combine uncompromised safety with functionality and aesthetics so much appreciated by our customers. FIBARO Smoke Sensor is a perfect sensor, a trendsetter for our competitors. It's a device combining beauty with new technology, to protect your home and family. The smoke sensors are also able to connect with 'Toon' from Eneco.
Minimalistic design
Smooth lines, polished surface and small size. Combining these we have got the most beautiful smoke sensor ever made.
Visual and acoustic alarm
FIBARO Smoke Sensor will let you know of a discovered threat with multi-colour RGB LED diode and built-in sound siren.
Polished grille
The grille not only looks great but also lets in even the smallest amount ot smoke, allowing for quicker reaction.
Ultra small housing
FIBARO Smoke Sensor is probably the smallest wireless smoke sensor in the World. Advanced production technology allowed to significantly minimise the sensor components, making FIBARO sensor the most advanced device of that type available on the market, and our company the leader in the manufacture of wireless smoke sensors.
Only 65x28mm
Ultimate perfection
These are the words describing FIBARO Smoke Sensor's grille. At first glance this shiny element may seem to be a piece of jewellery, however it's one of the most important components of the device. Its perforation lets the smoke into the sensors chamber. The better made, the smaller amount of smoke is needed to discover threat and trigger the alarm.
Our sensor's grille is made of top quality material, with huge number of holes in it. Each one of them was electrochemically shaped, so that smoke entering the housing is accurately guided into sensor's chamber. Detecting fire quickly, FIBARO Smoke Sensor provides ultimate protection, minimizing damages.
One sensor, many possibilities
Designing FIBARO Smoke Sensor we did our best to foresee all possible usage scenarios, from powering modes to compatibility with various alarm systems and wired or wireless communication. As a result, you can install our sensor wherever you need it, regardless of whether you can connect a power supply, walls allow for wireless communication, or what type of wired alarm system you have. FIBARO Smoke Sensor will satisfy all your needs.
This Z-wave module both on batterys as well as mainspower, works together with most alarm systems and can be connected via wires when installed on thick walls.
You decide
Your intelligent home will help you protect your family from fire and other threats. You decide what action Home Center is to take in case of fire, flood or break-in. In case of Smoke Sensor, discovering threat can result in opening roller blinds, opening garage gate and windows, and illuminating safe escape route. You can also manually run a safety scene, performing all life saving actions at a touch of a button in mobile phone or tablet.
Sensitivity calibration
FIBARO Smoke Sensor offers advanced options for configuring sensors sensitivity. Sensitivity may be different, depending one where you install the device. In kitchen, very sensitive sensor could trigger the alarm even when you fry some meat, that's why it should be less sensitive, helping avoid irritating false alarms. In other rooms, where smoke presence is less likely under normal conditions, sensor should be set to the maximum sensitivity in order to provide the best protection.
Connection check
Correct operation of a smoke sensor is extremely important. That's why Home Center 2 polls the sensor every hour checking whether it works properly. Having discovered any problems with communication or sensors operation, system will notify you immediately, so that you could quickly react and protect your home and family.
Tamper prevention
FIBARO Smoke Sensor has a built-in tamper prevention function. Any tampering with the device or attempt to dismantle it will be recorded and inhabitants will be notified about it. Smoke sensor is an extremely important element of your home safety system, that's why any tampering with it is not allowed. Any attempt to disconnect the power supply, steal the sensor or any other sabotage attempt will result in immediate reaction.
Z–Wave network range tester
Built-in RGB LED signaling diode may be used to signal the Z-Wave network range. Correct communication with Home Center 2 controller is the base of well functioning FIBARO intelligent home system.
Our sensor can communicate with an alarm system hub by wire or wirelessly with the Z-Wave network. Even if the Z-Wave network range is too week to allow direct communication with Home Center 2, each of the system devices may repeat radio signal allowing for installing FIBARO System components in the farthest nooks of your home.
Built-in tester
Faultless communication guarantees your home safety. Smoke Sensor is a battery device, which not only prefectly tests the Z-Wave network range, but also performs the self-test, informing system's main controller it's ready to detect threats.
Incredibly efficient process, performed automatically every 5 seconds, allows the system to monitor sensor's operation. The test may be triggered manually as well. All you need to do is to press and hold the button located in the center of the sensor's enclosure and wait for signaling light.
Coloured information
Smoke Sensor will inform you about its current state with a colour. The built-in LED glowing green means the device works fine and you are safe.
You cook, I ensure safety
FIBARO Smoke Sensor is the obligatory guest in your kitchen. Each time you prepare the favourite meals for your family, it makes sure you don't forget to close the gas or take a roast out of the oven. Incoming threat of fire or ... burned meat will be quickly discovered and reported for your convenience, safety, and enjoyable sunday lunch.
Guardian of your home
Safety of the FIBARO home inhabitants is of top priority for us. That's why we have designed our system from the start to provide not only the highest comfort, but also to make sure your family and your belongings are safe.
FIBARO Smoke Sensor is yet another sensor, following Flood Sensor and Door / Window Sensor, that makes us truly proud. It's one more FIBARO System component, improving the quality and safety of living, while caring of your family.
.
"FIRE ALARM turn of the iron immediately"
Even the smallest amount of smoke shown in chart
So called "Black Box" implemented into Smoke Sensor records information on smoke and temperature level. Regardless whether the alarm system is armed or not, sensor monitors the level of smoke and sends information to the main controller periodically. Now you are able to detect even the smallest amount of cigarette smoke.
History of alarms
Each of the discovered threats is recorded and stored in sensor's and main controller's memory. All of them may be constantly monitored via mobile devices interface or home.fibaro.com web page.
FIBARO smokesensor Video's
Video 1: Smoke sensor introduction
Video 2: inclusion of the FIBARO smokesensor
Video 3: wake-up of the FIBARO smokesensor
Video 4: seltest of the FIBARO smokesensor
Video 5: reset of the FIBARO smoke sensor
Video 6: using the smokesensor as range tester
Video 7: Navigating FIBARO smoke sensors' menus
When you are having issues with the installation, please check out our service manual.
Toon meer
Toon minder
ROBB's advies
Kleine slimme rookmelder die ook nog eens mooi is. Hang hem aan het plafond en koppel hem aan je smart hub voor maximale veiligheid. Regelmatig schoonmaken met een stofzuiger voorkomt valse meldingen.
Toon meer
Toon minder
Reviews
---
Hi, ik heb 5 rookmelders van Fibaro gehad maar helaas geen van alle bevredigend. Ik had gemiddeld om de maand een foutmelding - dat is voor mij echt veel te veel. Zeker als ze midden in de nacht afgaan ? Tot nu toe betere ervaring met de heatit melders die hier ook te koop te zijn.
Werkt prima in domoticz en weinig omkijken naar
Ik ben begonnen met één van deze in domoticz om te kijken of het wat was. In verhouding zijn ze ongeveer 4x zo duur als een niet slimme rookmelder van een willekeurige oranje-gethematiseerde huishoudwinkel. Maar goed, daar krijg je dan ook wel wat voor: Het apparaat is echt mini en past makkelijk op je handpalm. Hij is niet zo lelijk als de rest van de rookmelders en je kunt er veel aan instellen. Denk bijvoorbeeld aan temperatuur thresholds, test intervallen en optionele visuele indicatoren. Dat werkt allemaal prima en de batterijen gaan voor zover bekend lekker lang mee. Als je in domoticz de batterij monitor plugin installeert krijg je ook meldingen wanneer batterijen op raken. Echter, daar heb je domoticz niet voor nodig, want je krijgt een subtiel piepje als dit het geval dreigt te zijn. Ze zijn goed te horen en ze kunnen zelfs in FIBARO-broadcast mode staan, standaard is dit niet het geval. Als je één parameter aanpast, kun je zorgen dat al je FIBARO apparaten hier op reageren. Dit zou je dan niet eens hoeven te scripten in domoticz. Ik heb het getest met wat FIBARO smart dimmers (dimmer v2) en mijn lampen gingen aan op maximale brightness. De FIBARO rookmelders zijn niet interconnected, maar ik ben er nog niet aan toegekomen om te testen of dit ook geldt voor andere FIBARO rookmelders (want hij beviel zo goed, dat ik er nu 4 in huis heb). Daarnaast gaat het bij deze dingen natuurlijk maar om 1 ding: doen ze wat ze moeten doen? Ik heb daar testspray voor meebesteld en ik kan je zeggen: ja ze doen het prima! Je kunt de sensitiviteit van de melders instellen door een parameter in domoticz aan te passen, maar daar wil ik niet te veel mee experimenteren, why fix what ain't broke? :) Ik ben er blij mee! Enige nadeel is dat je de sirenes niet afzonderlijk als device kunt aansturen. Je krijgt 2 devices in domoticz, één voor rook en één voor temperatuur, maar geen sirene. Dus je kunt niet zoals bij anderen de sirenes van de rookmelders gebruiken voor je alarmsysteem. Had leuk geweest, maar zo duur waren ze nou ook weer niet.
Heb er drie van deze melders en laatst bij brand in de slaapkamer ging de sensor niet af. Hierop besloten alle drie de sensoren te testen (met echte rook). Geen enkele melder ging af. Na onderzoek bleek dat meer mensen hier last van hebben. Aannemende dat het gros hun rookmelders niet testen met echte rook of met test rook is dit product onbetrouwbaar.
Mooi product, gemakkelijk te installeren. Helaas alleen veel valse meldingen digitaal als in echt. Ik heb al best aantal melders met batterij er uit op een kastje liggen omdat ze gewoon te vaak op willekeurig (bv middernacht, midden overdag) af gaan terwijl er niets aan de hand is. Lukt me niet om ze dan uit te drukken (en je kunt ze via app niet onderdrukken), dus dan maar van plafond halen. Als ze meerdere keren na elkaar gedaan hebben dan haal ik ze van plafond. Heb de helft nog hangen... Ook digitaal krijg ik via fibaro steeds email meldingen dat er brand is. Emails overstromen mn mailbox en negeer ik inmiddels. Moet ws iets resetten zodat t weer werkt, maar wel rete irritant. Ik ga andere oplossing kopen...
Waardeloos product. Al na 1 dag was de batterij leeg of de melder defect!
Mooie rookmelder, maar kies voor gebruik met Homey (nog) een andere.
Een aantal van aangeschaft. Koppelen aan Homey is super simpel. Je ziet ook keurig de temperatuur in Homey. Bij het indrukken van de testknop op de rookmelder zou ook een Z-wave alarmmelding gegenereerd moeten worden (om je flows te kunnen testen bij alarmmelding). DIT WERKT DUS NIET IN HOMEY!!! Nu moet je er maar op vertrouwen dat de flow wel uitgevoerd wordt bij een echte alarmmelding. Volgens diverse berichten op het forum van Homey geeft echte rook wel degelijk een alarmmelding, maar ik zou dit ook graag zo kunnen testen of mijn flows juist worden gestart bij een brandmelding. Had ik dit van te voren geweten had ik zeker andere melders gekocht.
Afgelopen dagen met rond 40 graden meerdere keren afgegaan voor een zogenaamde rookmelding dus vals alarm want er was niks aan de hand!!! In mijn ogen dus onbetrouwbaar!!! -> ROBBshop. Een rookmelder dient af en toe schoongemaakt te worden. zie deze link. Daarmee zou het probleem opgelost moeten zijn. https://www.robbshop.nl/valse-melding-rookmelder
Top product en ziet er fraai uit gekoppeld met homey
Degelijke rookmelder gekoppeld aan TOON
Snel gekoppeld aan TOON en met testfunctie ook direct melding via voicemail / SMS dat de rookmelder goed door de test is gekomen. Mooi product wat (gelukkig) niet direct in het oog valt
Deze rookmelder geeft regelmatig valse meldingen, mate name in kleine ruimten. De meeste producten van Fibaro zijn prima, maar vanwege de grote kans op valse meldingen raad ik dit product af. -> Waarschijnlijk is je rookmelder vervuild (stof). Rookmelders dien je regelmatig te reinigen. Kijk eens hier https://www.robbshop.nl/valse-melding-rookmelder?sqr=valse&
Lees alle reviews
Verbergen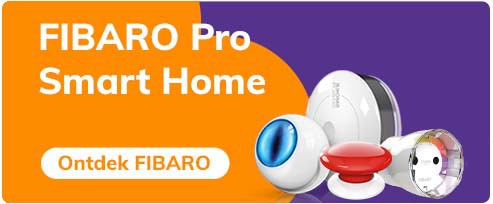 Volledige Specificaties
Algemeen
Available app

iOS

, Android

Confirmation

Ceiling attachment

Scene control possible

Ja

Smart functions

Smart smoke detector

, Smart multisensor

, Smart temperature sensor

Works with

Fibaro HC3

, Home Assistant

, Homey Pro

, Homey Bridge

, DOMOTICZ

, Fibaro HC2

, Fibaro HC3L
Handleiding
Download hier de handleiding(en):
Lekker laten installeren
Liever lui dan moe? Laat je producten dan installeren door onze smart home experts. Dan weet je zeker dat alles naar behoren werkt, zonder dat je zelf al die handleidingen moet uitpluizen! Laat ons alles voor je installeren én programmeren, dan kun jij leukere dingen gaan doen.
Dit wordt 'm!
Fibaro Smoke Sensor 2 Z-Wave Plus
Ordered before 23:59, delivered tomorrow
Why Robbshop
2 year warranty
Ordered before 12:00 on working days, delivered today.
More than 3000 positive reviews
Smart home service, knowledge and advice
Available 6 days a week on +31 73 762 0 762
Standaard 2 jaar garantie
Voor 12 uur besteld, morgen in huis*.
Meer dan 3000 positieve beoordelingen
Smart home service, kennis en advies
6 dagen per week bereikbaar op +31 (0)73-7620762
Ordered before 23:59, delivered tomorrow