Eufy RoboVac 15C stofzuiger
Geniet van de voordelen van een slimme stofzuiger. Geen herrie want stofzuigen doet de stofzuiger bij voorkeur als jij er niet bent. Niet dat hij veel herrie maakt want deze stofzuiger combineert een grote zuigkracht en een stille werking.
Lees meer
lees minder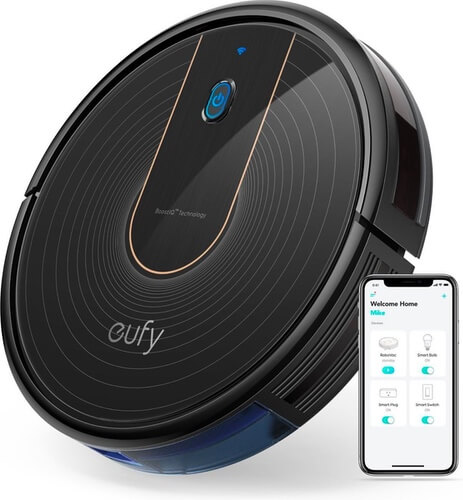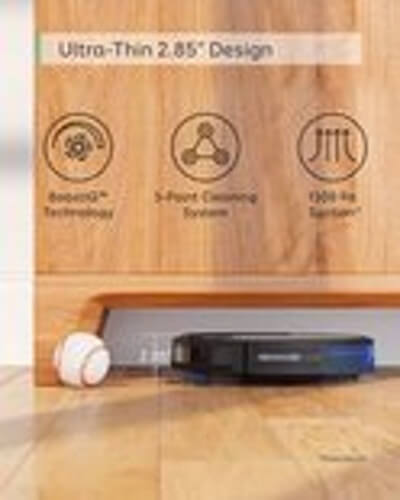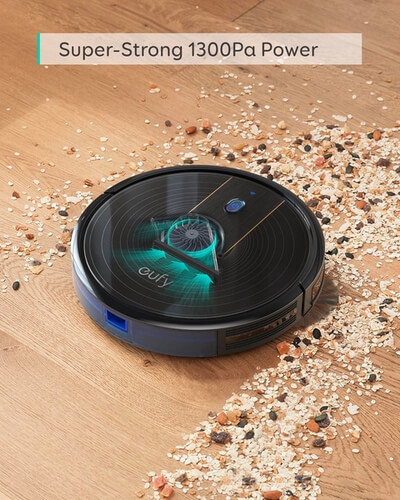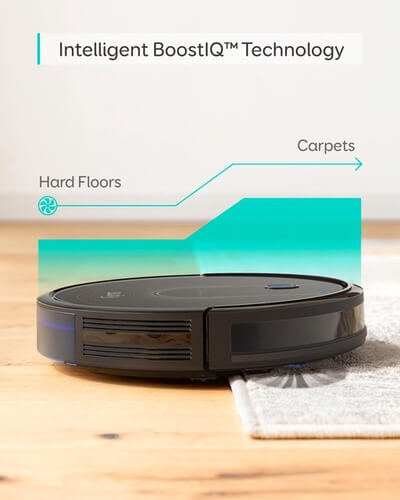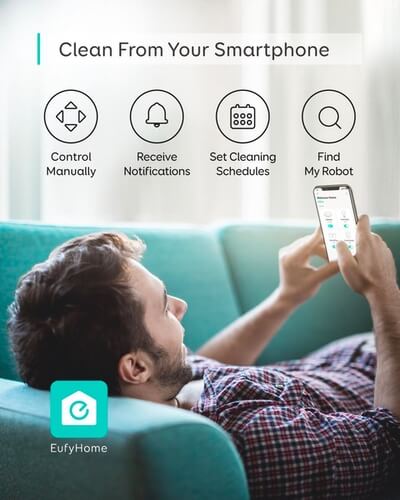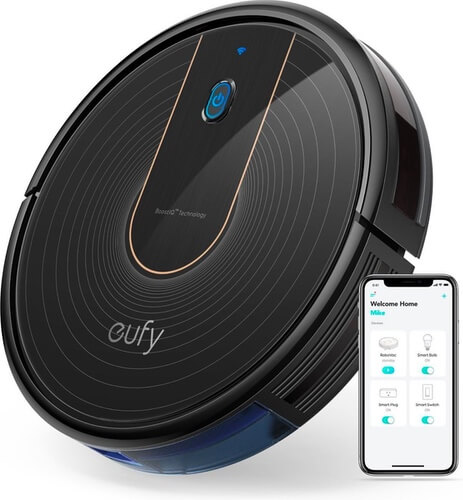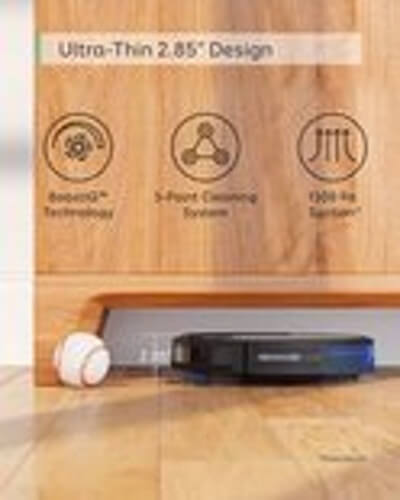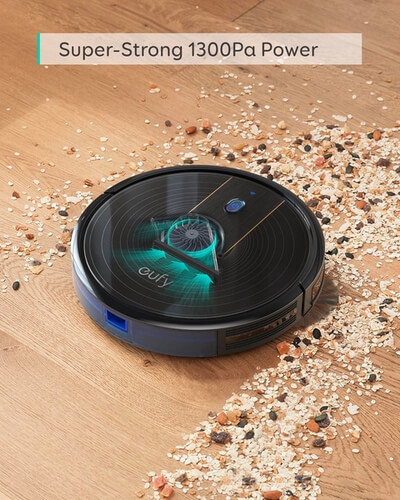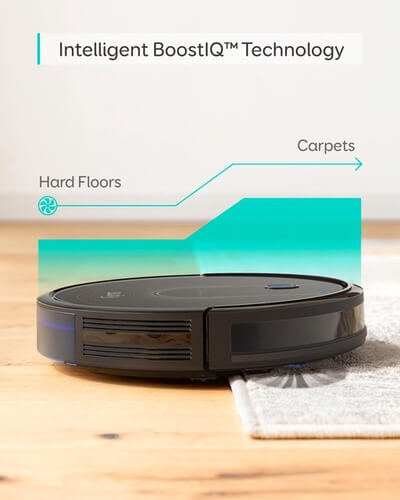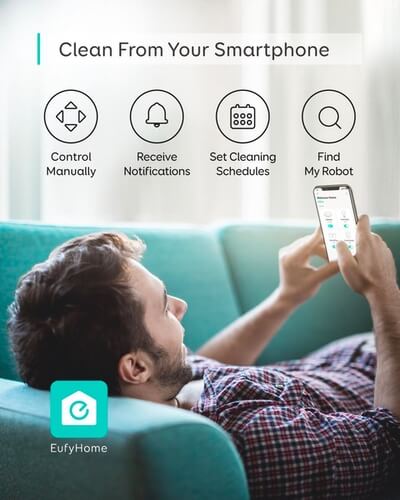 Vor 12:00 Uhr. bestellt, heute geliefert
Why Robbshop
2 year warranty
Ordered before 12:00 on working days, delivered today.
More than 3000 positive reviews
Smart home service, knowledge and advice
Available 6 days a week on +31 73 762 0 762
Standaard 2 jaar garantie
Voor 12 uur besteld, morgen in huis*.
Meer dan 3000 positieve beoordelingen
Smart home service, kennis en advies
6 dagen per week bereikbaar op +31 (0)73-7620762
Related products
Summary
Reviews
Alternatives
Specifications & Manual
More from this brand
Samenvatting
In het kort
Merk

Eufy

Artikelnr.

EUF_ROBOVAC_15C

Installatiegraad

Makkelijk

Protocol

WiFi 2.4GHz
Plus- en minpunten
+
Stofzuigen als jij er niet bent
+
Past onder je bed of kast
-
Geen opvangbak bij de oplader
Omschrijving
Eufy RoboVac 15C | Slimme Robotstofzuiger
Met deze slimme robotstofzuiger heb je meer vrije tijd want zelf stofzuigen is vanaf nu verleden tijd, Helemaal ideaal is het dat hij zijn werk doet als jij er niet bent. De vloer is schoon als jij thuiskomt. Ben je wel thuis dan zul je weinig last hebben van deze slimme stofzuiger, hij is namelijk heel stil.
Past onder de kast en onder het bed
Met zijn geringe hoogte van nog geen 7,5 cm past hij makkelijk onder je bed of onder de kast. Lekker uit het zicht als hij in de oplader staat.
BoostIQ technologie
De stofzuiger robot verhoogt automatisch de zuigkracht binnen 1,5 seconde mocht er extra zuigkracht nodig zijn
Zuigen doet hij als de beste
Met zijn 1300Pa zuigkracht behoort hij tot de sterkere stofzuigers.

Werktijd
De stofzuiger werkt tot 100 minuten en daarbij maakt hij niet meer herrie dan een werkende magnetron.
Toon meer
Toon minder
ROBB's advies
De stofzuiger van Eufy is een serieuze concurrent voor de vaak duurdere iRobot stofzuiger. Wij hebben hem zelf ook in gebruik en zijn onder de indruk van de prestatues.
Toon meer
Toon minder
Volledige Specificaties
Algemeen
Smart functions

Slimme Stofzuiger

Works with

Amazon echo

, Homey Pro

, Google Home
Handleiding
Download hier de handleiding(en):
Lekker laten installeren
Liever lui dan moe? Laat je producten dan installeren door onze smart home experts. Dan weet je zeker dat alles naar behoren werkt, zonder dat je zelf al die handleidingen moet uitpluizen! Laat ons alles voor je installeren én programmeren, dan kun jij leukere dingen gaan doen.
Dit wordt 'm!
Eufy RoboVac 15C stofzuiger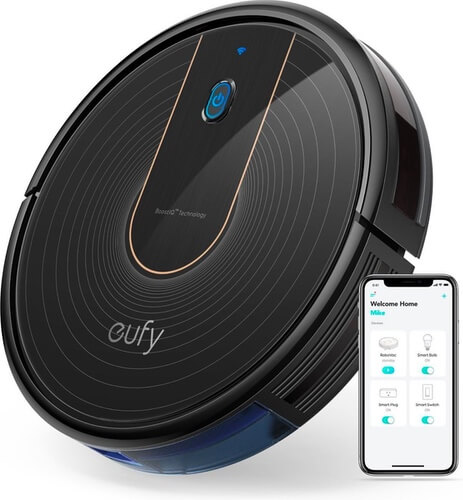 Vor 12:00 Uhr. bestellt, heute geliefert
Why Robbshop
2 year warranty
Ordered before 12:00 on working days, delivered today.
More than 3000 positive reviews
Smart home service, knowledge and advice
Available 6 days a week on +31 73 762 0 762
Standaard 2 jaar garantie
Voor 12 uur besteld, morgen in huis*.
Meer dan 3000 positieve beoordelingen
Smart home service, kennis en advies
6 dagen per week bereikbaar op +31 (0)73-7620762
Vor 12:00 Uhr. bestellt, heute geliefert