Remotec Scenemaster 8knops Remote Wit Z-Wave Plus
De best verkochte slimme afstandsbediening; Met 8 knoppen en 24 programmeerbare functies. Mooi, compact design ter grootte van een smartphone. Schakel je lampen, gordijnen, muziek of start scènes vanaf één device.
Lees meer
lees minder
Ideaal voor op de bank
Z-Wave Plus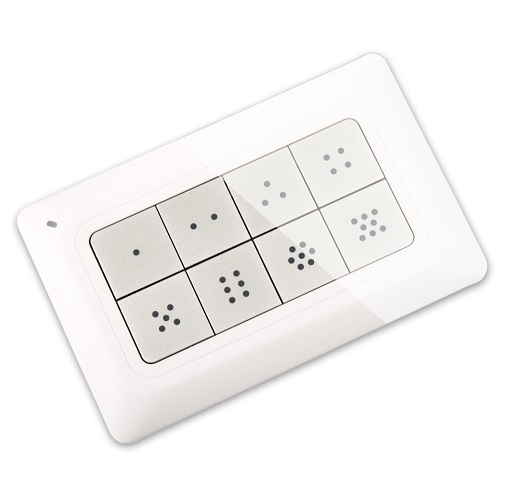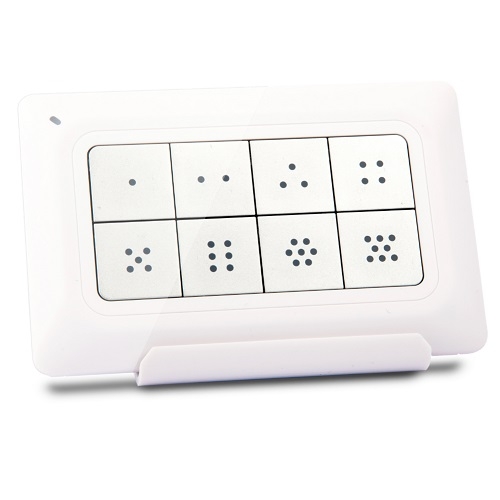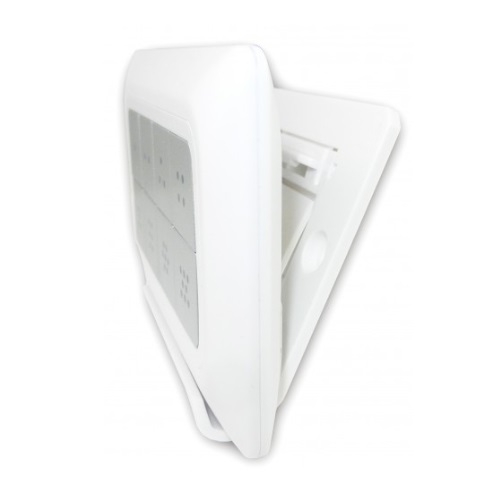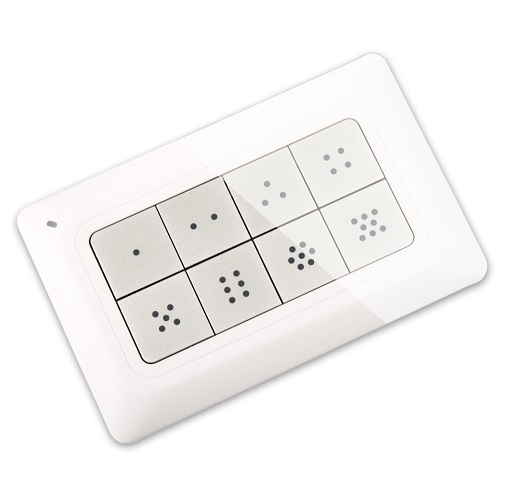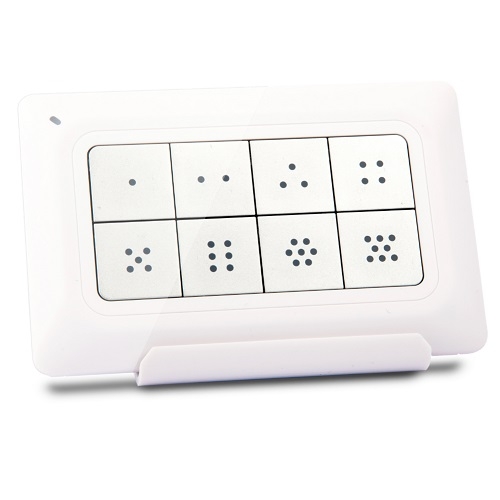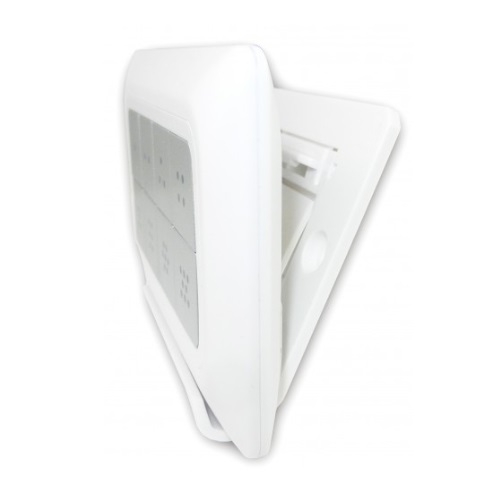 Vor 12:00 Uhr. bestellt, heute geliefert
Why Robbshop
2 year warranty
Ordered before 12:00 on working days, delivered today.
More than 3000 positive reviews
Smart home service, knowledge and advice
Available 6 days a week on +31 73 762 0 762
Bundles
Related products
Summary
Reviews
Alternatives
Specifications & Manual
More from this brand
Save with our bundle offers
Samenvatting
In het kort
Merk

Remotec

Artikelnr.

REM_ZRC-90EU

Installatiegraad

Makkelijk

Protocol

Z-Wave Plus
Plus- en minpunten
+
Veel bedieningsmogelijkheden
+
Makkelijk scenes starten
+
Inclusief stickervel met labels voor knoppen
-
Past niet in bestaand schakelmateriaal
-
Werkt alleen met scenes, niet met associaties
-
2 aaa batterijen niet geleverd
Omschrijving
8 Knops Z-wave controller
This Remotec ZRC-90 is the perfect Z-wave scene controller. With the push of a button you can start a scene or dim a light. When a button is pressed the scene controller will sent a message to the primairy controller.


Specifications:
‐ Controller tot 8x2 voorgeprogrammeerde scenes and 8 dimmer groepen
‐ One learn‐key setup and simple operation
‐ Report for key pressed 1 time, 2 times, released and held down
‐ Unlimited controlling capability through gateway
‐ Able to act as a primary or secondary controller
‐ Z‐Wave Plus compliant
‐ Super thin, elegant design and able to mount to the wall‐bracket
Toon meer
Toon minder
ROBB's advies
Slimme afstandsbediening met 8 knoppen en 24 mogelijke acties. Onze aanbeveling voor een draadloze schakelaar als je een Z-wave hub hebt.Lees ook de reviews van klanten.
Toon meer
Toon minder
Reviews
---
In Domoticz is het ietwatlastig om het apparaat te installeren, het includen werkt, maar je krijg geen regels bij "apparaten". Je moet namelijk bij "schakelaars"elke knop even "Leren". Dat gaat verder vrij simpel, je moet dan 3 x 8 knoppen even leren. Verder is het blauwe ledje heel fijn omdat je een weergave krijg als je een knop indrukt. Ik gebruik de remote in een clubhuis, en omdat veel mensen niet weten wat een enkel klik is gebruik ik zowel enkelklik, als lang vasthouden in blockly voor dezelfde functie.
Prachtige en handige afstandsbediening. Met de homey slim programmeren dan vier functies per knop, vierde functie "als het licht brandt"
Leuk produkt, tegen nette prijs. werkt goed op HC2 jammer dat programmeren enkel in de magische blokken modus de vele functies beschikbaar zijn. Kwaliteit moet zich nog bewijzen maar alle waar naar zijn geld en bij dit produkt lijkt het prima.
Heerlijk, zo'n afstandsbediening met zó veel knoppen. En dan nog drie functies per knop. Ik bedien de lampen in de eetkamer, (open) keuken en zitkamer mee: 1x drukken = gedimd! 2x drukken = vol aan, 3s vasthouden is uit. Hij bevalt zo goed dat ik nu een tweede bestel; eentje voor in de zitkamer, eentje in de eetkamer.
Makkelijk te installeren en werkt goed. Ik zou graag reliëf voelen of lichtjes hebben zodat hij ook in de slaapkamer inboet donker te bedienen is. Verder top apparaat
werkt uitstekend met vera+
Opnemen in Vera+ Z-wave netwerk gaat zo makkelijk als je dat zou willen: Vera's UI7 interface kent de ZRC-90, installatie gaat dus vlot en moeiteloos en na installatie biedt de UI7 per drukknop van de ZRC-90 twee menuutjes aan waarmee je kunt kiezen welke van je scenes geactiveerd worden door 1 of 2 keer op de drukknop te drukken. Goed voor 16 verschillende scenes, te lanceren vanuit... waar je maar wilt. Na installatie werkt het ook uitstekend: communicatie is heel vlot. Verder is het een mooi dun, wit plat doosje met soort van high-tech-zen-achtige uitstraling. Misstaat nergens, lijkt mij.
Zeer makkelijke installatie op Homey en makkelijk te verwerken in de flows. Ziet er robust uit en oogt ook mooi.
Erg handig apparaat, zeer eenvoudig te configureren in HC2, helemaal super!
Top product. Weigert nooit en goede ontvangst, In de HC2 erg makkelijk te programmeren en betaalbaar.
Moest ik al vlugger gekocht hebben
Echt de top. Zeker ideaal voor verlichting te besturen (bijv Hue met 1 knop en 1 druk zet ik de lampen aan en uit). Je kan dus 24 verschillende acties programmeren , ik zal dan nog wat devices moeten bijkopen. Een klein nadeel , de batterijen wippen eruit als je het deksel achteraan opent. En mocht er een silicone rand rond zijn, dan is het pas echt perfect (tegen vallen). Was alles maar zo simpel.
Lees alle reviews
Verbergen
Volledige Specificaties
Algemeen
Available app

iOS

, Android

Confirmation

Wall mount

, Table model

, Screw

Number of physical buttons

8

Scene control possible

Ja

Smart functions

Makes Switch Slim

Working temperature

0 ° C to +40 ° C

Works with

Fibaro HC3

, Homey Pro

, Zipatile

, DOMOTICZ

, Zipabox

, Fibaro HC3L
Handleiding
Download hier de handleiding(en):
Lekker laten installeren
Liever lui dan moe? Laat je producten dan installeren door onze smart home experts. Dan weet je zeker dat alles naar behoren werkt, zonder dat je zelf al die handleidingen moet uitpluizen! Laat ons alles voor je installeren én programmeren, dan kun jij leukere dingen gaan doen.
Dit wordt 'm!
Remotec Scenemaster 8knops Remote Wit Z-Wave Plus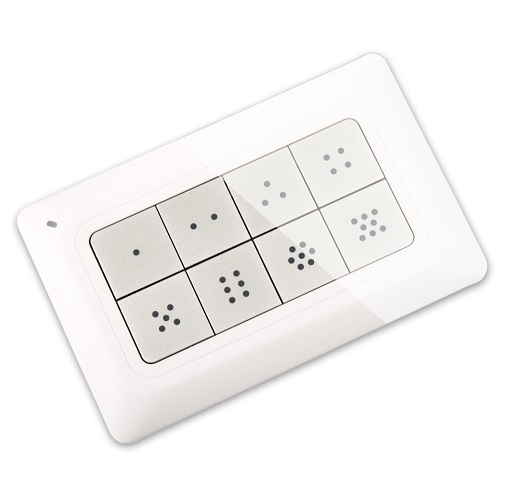 Vor 12:00 Uhr. bestellt, heute geliefert
Why Robbshop
2 year warranty
Ordered before 12:00 on working days, delivered today.
More than 3000 positive reviews
Smart home service, knowledge and advice
Available 6 days a week on +31 73 762 0 762