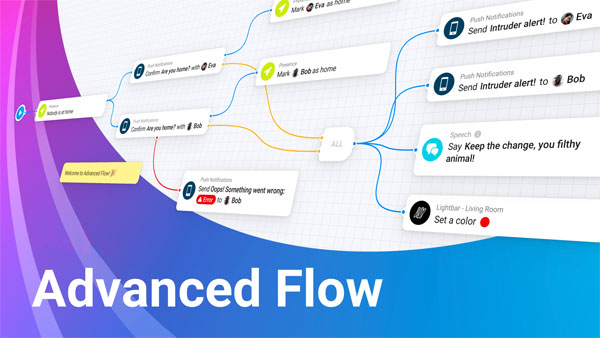 Slimme Thuis simulatie met Homey Advanced Flows
4 September 2022
Slimme thuis simulatie | Zo heeft niemand in de gaten dat je op vakantie bent
Een van de voordelen van een slimme huis met slimme verlichting naast energie besparing is dat je niet zelf aan de knoppen hoeft te draaien om de lampen aan te zetten. Dus ook als je er niet bent kun je gewoon de lampen schakelen. Niet te lang natuurlijk want we moeten allemaal energie besparen. Daarom is het regelmatig kort aan en uitzetten niet alleen goed voor je portemonnee, het lijkt ook net alsof je thuis bent. Hoe vaker je schakelt hoe realistischer het lijkt.


Slimme gordijnen
Naast verlichting kun je natuurlijk ook je slimme gordijnen meenemen in deze flow.
Zo maak je een thuis simulatie met de Homey Pro (met advanced flows)
Wat heb je nodig?
- Homey Pro met advanced flows
- Countdown app
- Één of meerdere slimme lampen of slimme schakelaars


Deel 1 | Maak een willekeurige interval
Installeer de countdown app en maak een timer aan, in ons geval SampleTijd1.
Maak een variabele met dezelfde naam (SampleTijd1) aan in het logic scherm van de homey
Maak vervolgens een flow zoals in de afbeelding 1 te zien is.


Deze flow loopt iedere .. seconden en stelt de zandloper in op een tijd tussen 30 en 600 (seconden). Merk op dat we dus een timer én een variabele hebben met dezelfde naam!

Maak vervolgens nog een advanced flow aan die start op het moment dat de zandloper (SampleTijd1) leeg is. Omdat de waarde van SampleTijd1 steeds anders is zal het interval waarin de flow start liggen tussen de 30 en 600 seconden.
Sluit de thius simulatie goed af
Na het verstrijken van de tijd tussen zal de flow niet werken. Maak een 'gewone' flow die - in dit geval - alle lampen om 1.05 alle lampen uitzet als er niemand is
Fijne vakantie!