Plugwise Zoneheating | How heating per room works
19 October 2020
Heating each room independently.
Evolution theory of a warm house

A long time ago there was a fire that kept us warm. Over time, we left the cave and settled in castles and houses. There was a wood stove and later even Central Heating. The thermostat of the central heating regulated the temperature in the living room. Other rooms only got heat when the living room was heated. Co-heating, say. When the living room was warm you could turn the knob in the bathroom for as long as you wanted, it remained cold.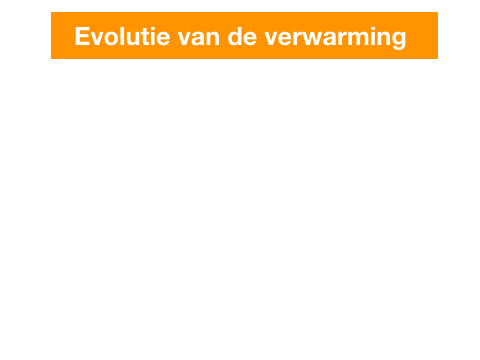 There was a clock thermostat that you could set on time, then the smart thermostat appeared because there was no longer a 9-17 job so you wanted to regulate the heating on the way. But everything revolved around warmth in the living room, the bathroom where you spend most of the time in the morning remained cold. Now there is finally zone heating. And the Dutch PlugWise has a very nice solution.
The year 2000 | Smart themostat with app control
Until a few years ago, controlling your heating from your smartphone was the best there was. It worked perfectly but you could only control the temperature in the central (living) room. All other rooms only received heat when the tap was open and the living room was also heated. Only heating the bathroom was therefore not an option.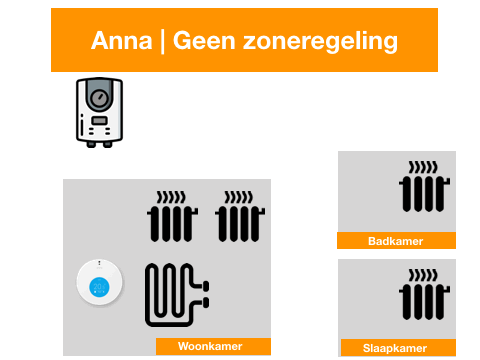 2010 | Zone heating
Nowadays it is desirable to be able to control the heat individually for each room. Not only because this is more comfortable, but also because it can save considerably on your energy bill. Zone heating is therefore independent heating per room. A smart thermostat alone is therefore not a zone heating.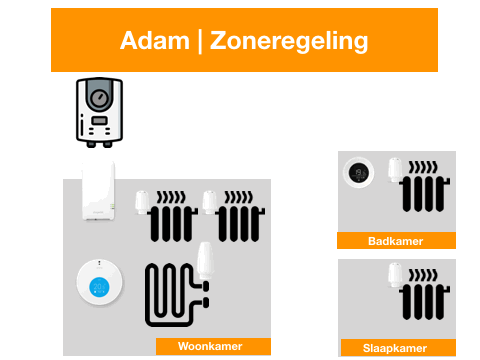 With a zone heating system, every room can demand heat from the heat source (central heating boiler). The rooms that do not require heat do not receive this heat because the taps on the radiators / underfloor heating manifolds are closed. That way you can keep every room at the desired temperature.
Anna | Smart thermostat without zone control. If you connect it to the Adam, it will be part of your zone control.
Adam | Controls heat demand based on signals from Lisa or even a tom placed in a room.
Works with old-fashioned 'on-off' boilers, but also with OpenTherm and even with district heating, heat pumps and electric heating (readjustment).
In the app you then create rooms that consist of a combination of Lisa, Tom, Floor, Smile Plug.
Incidentally, there are 2 versions of the Adam, the Adam-SA and the Adam-HA. The latter has a built-in zigbee stick that it uses to talk to other plugwise devices. So the most used Adam. The Adam-SA is actually only used to make a non-smart OpenTherm thermostat smart.
Example 1 | Lisa & Tom & Floor
Lisa measures the temperature and Tom controls the radiator and Floor the underfloor heating in a room.
Example 2 | Lisa & Floor
Lisa measures temperature and Floor controls the underfloor heating in a room. Lisa is mandatory in combination with a Floor only.
Example 3 | Tom standalone
Tom has a built-in temperature sensor. Tom can therefore measure and control the temperature. A Lisa is therefore not required in combination when you have a Tom in the room.
Lisa | Room thermostat
Wireless room thermostat that measures the temperature in a room and passes it on to Adam. Works on batteries or on USB. There is a table stand and wall mount. Unfortunately no backlight. If you feed it via USB, it also works as a signal amplifier.
Tom | Radiator valve
Controls the heat supply to a radiator. You do need a thermostatic radiator valve (so no valve that you open and close by hand). Tom can even serve as a replacement for Lisa (measuring the room temperature). You only have no manual option to set the temperature in the room. And because it will measure just next to the radiator, the measured temperature may not be completely spot-on. Works on batteries or USB! If you feed it via USB, it also works as a signal amplifier.
Floor | Underfloor heating valve
Works the same as the Tom but only on USB. The tap itself is narrower to fit well on an underfloor heating manifold.Since the driver is usually not in the room where you regulate the temperature, he is unsuitable as a temperature sensor. A Lisa is actually mandatory.
Koen | Alternative for multiple floors
Koen consists of a smart plug (The smile plug) that is linked to 1 or more electric floor heating taps. De Koen controls all these cranes at once and is therefore only suitable if you have a room with multiple loops that all need to be operated at the same time. This makes Koen a cheaper alternative. Only interesting if you want to control more than 1 loop at the same time.
Smile Plug | Pump switch or electric heating controller
The smart plug-in from Plugwise. And this one is really smart because you can use it both as a pump switch for your floor pump (so that you save a lot of electricity in the summer! If the underfloor heating is not active, subject to regular maintenance) or you can use it to integrate electric underfloor heating into your system.
Also interesting
Adam also works with Toon from Essent.