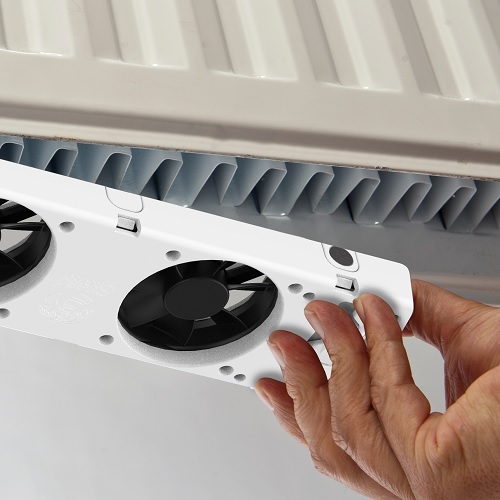 Bespaar op je energiekosten met radiator ventilatoren
6 October 2021
Maak je verwarming nog slimmer!
De koude maanden staan weer voor de deur en er is niets zo vervelend dat het gevolg een hoge energierekening is. Sinds kort hebben wij hiervoor een perfect product om deze kosten te drukken: de Speedcomfort, die als een soort ventilator de warme lucht van je radiator door de kamer verspreidt. Hierdoor kun je tot wel 22% besparen op je energiekosten!

Er zijn 3 modellen te verkrijgen: te weten een model voor een radiator tot 50cm, voor een radiator van 50 tot 120cm en een model voor een radiator van 120 tot 180cm.

Wanneer door de meegeleverde temperatuur-sensor een hogere temperatuur wordt gemeten dan 33 graden zal hij automatisch aangaan. Wanneer vervolgens een temperatuur lager dan 25 graden wordt gemeten, dan zal de Speedcomfort stoppen met werken.
Bepaal zelf wanneer de radiator ventilator aan mag gaan
Het kan dus voorkomen dat de Speedcomfort begint de werken, wanneer je net rustig een boek zit te lezen of een andere reden waarom je niet wilt dat hij aangaat. We hebben hier een oplossing voor bedacht! Wanneer je namelijk een slimme tussenstekker op de voeding van de Speedcomfort zet, kan je zelf bepalen wanneer dat hij aan of juist uit moet staan.
Hieronder staan enkele voorbeelden uitgeschreven.
Voorbeeld 1:
Wanneer je gebruik blijft maken van de meegeleverde temperatuur sensor, dien je enkel te bepalen wanneer het geheel aan of uit moet staan. We hebben hierbij een voorbeeld gemaakt binnen de Homey, wanneer dat je TV aan het kijken bent, dat dan de Speedcomfort uit staat!
Voorbeeld Flow:
Voorbeeld 2:
Wanneer je zelf wilt bepalen wanneer de Speedcomfort gaat werken en dus niet afhankelijk wilt zijn van de meegeleverde temperatuursensor, dan is dat ook zeker mogelijk. Wanneer je namelijk deze sensor niet aansluit, staat de Speedcomfort permanent aan. Hierbij is het dus volledig aan te sturen door middel van een slimme tussenstekker en een temperatuur sensor binnen je domotica systeem.
Voorbeeld flow:
Voorbeeld 3:
Indien je geen Domotica controller hebt, maar wel vanuit de bank wilt bepalen of je Speedcomfort aan of uit staat, dan zou je kunnen kijken naar een Shelly tussenstekker. Deze tussenstekker is toe te voegen op je bestaande (2.4Ghz) Wifi en aan te sturen vanuit de Shelly app.

Voorbeeld Shelly app:
Als je nog meer informatie wilt over hoe je je huis slim kan verwarmen. Kijk dan op deze pagina!