Hoe werkt dat nou?
De meeste deurbellen vervangen de bestaande eenvoudige deurbel. De bedrading voor de oude deurbel kun je bij sommige slimme deurbellen ook gebruiken, bijvoorbeeld om de deurbel gevoed aan te sluiten. Vaak heeft een slimme deurbel ook een batterij die soms wel een half jaar meegaat voordat je deze moet opladen. Uiteraard speelt dan mee of je ook gebruik maakt van bewegingsmeldingen of andere activiteiten die wat meer van de batterij vragen. Ook heb je een goed WiFi-signaal nodig, want de meeste slimme deurbellen werken met WiFi. De deurbel stuur je een melding op je smartphone waardoor je meteen kunt kijken, terugpraten of opnemen. In je huis kun je één of meerdere gongen (chimes) installeren om zo ook te horen dat er iemand aan de deur staat. Dat is handig wanneer je je telefoon niet bij de hand hebt of huisgenoten hebt die geen melding op hun telefoon krijgen.
Waarom een slimme deurbel?
Deze vraag wordt ons natuurlijk dagelijks gesteld. Een slimme deurbel heeft veel voordelen. Allereerst is het een goede beveiligingsmethode. Je wordt door de bel op de hoogte gebracht van gewenste én ongewenste gasten voor je deur en de bel maakt hier ook afbeeldingen of filmpjes van die je live kunt zien via je smartphone. Ook kunnen de beelden worden bewaard om ze later te bekijken. De meeste slimme deurbellen hebben ook een intercomfunctie. Je kunt dus praten met degene die voor de deur staat. Denk hierbij aan een pakketbezorger met haast en je bent zelf net op zolder of buiten de deur. Je kunt dan vertellen of hij even wil wachten of het pakketje bij een buurman af wil geven. Bij sommige deurbellen heb je een abonemment nodig om beelden bijvoorbeeld in de cloud te bewaren. Andere deurbellen slaan de beelden zelf op of op een hub van het merk.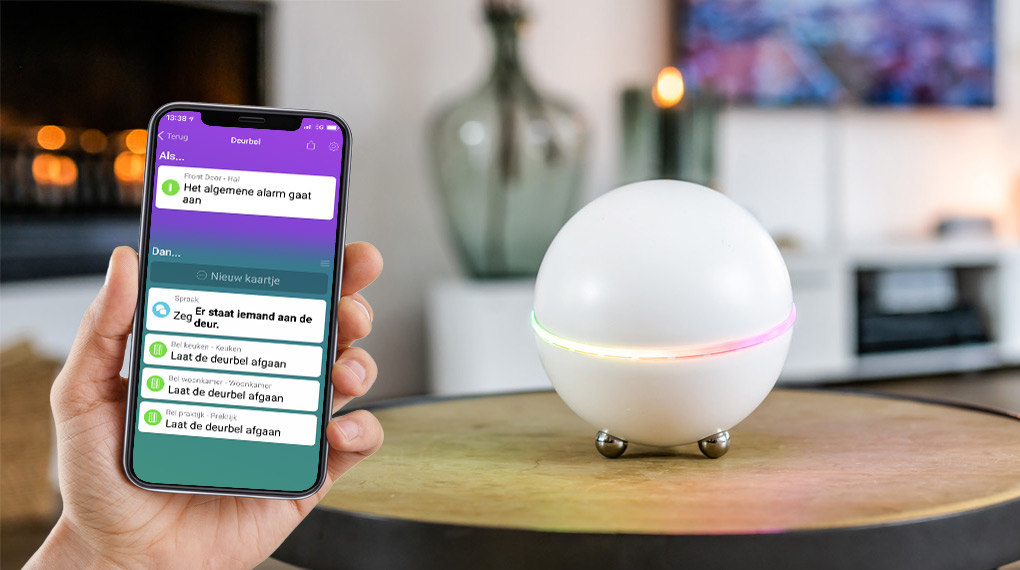 Extra beveiliging met je deurbel
Als je gebruik maakt van een slimme deurbel, dan kun je deze natuurlijk ook koppelen met je smarthome controller, zoals Homey, Homecenter en SmartThings als je die hebt. Op deze manier kun je slimme acties maken waarbij je gebeurtenissen activeert omdat je deurbel afgaat of wanneer deze een bewegingsmelding geeft.
Een voorbeeld kan zijn dat 's avonds je huisverlichting aangaat als er iemand binnen het bereik van je deurbel komt. Dat kan afschrikken en daarmee gebruik je je slimme deurbel ook als beveiligingsmiddel. Niet alle slimme deurbellen werken samen met smarthome controllers, maar inmiddels de meesten al wel. Ook kun je door speakers een geluidje af laten gaan als iemand aanbelt, of deurbelgongen af laten gaan.