Waarom een slim deurslot?
Bij een normaal deurslot zijn er natuurlijk sleutels is omloop. En sleutels raken kwijt, je kunt ze nooit vinden als je ze nodig hebt, verdwijnen ergens in je tas. En als je je sleutel verliest dan ben je aan de beurt want dan kun je misschien al je sloten vervangen. Je wil natuurlijk niet dat je verloren sleutel in de verkeerde handen komt. Met een slim deurslot hou jij controle over wie er wel en niet naar binnen kan. Bij sommige slimme sloten kun je je bestaande sleutelplan gebruiken, maar er zijn ook slimme sloten die een eigen systeem hebben. Bij vrijwel alle slimme sloten kun je de deur openen met je smartphone. Hoe fijn is dat?
Voorbeelden van populaire slimme sloten zijn het Nuki slot, het LOQED smart lock en het slimme slot van Yale
Is een slim deurslot wel veilig?
Het antwoord daarop is simpel: JA! Maar net zoals met gewone sleutels is het natuurlijk wel belangrijk dat je goed in de gaten houdt wie er toegang heeft tot jouw slot. Je kunt je deurslot beheren en daar gebruikers aan toevoegen die je verschillende rechten kunt geven. Een voorbeeld is dat je toegang kunt verlenen op bepaalde tijden of dagen of voor een beperkte tijd, bijvoorbeeld als je op vakantie bent. Een slim deurslot werkt met encryptie, het is dus vrijwel onmogelijk om de code te kraken die je toegang geeft. En de app van een gebruiker genereert steeds een andere unieke code. Dus met die veiligheid zit het wel goed. Het is wel aan te raden om het schild aan de buitenkant van de deur te vervangen voor een anti-kerntrek variant. Hierbij is het voor kwaadwillende onmogelijk om het slot op een makkelijke manier uit te boren.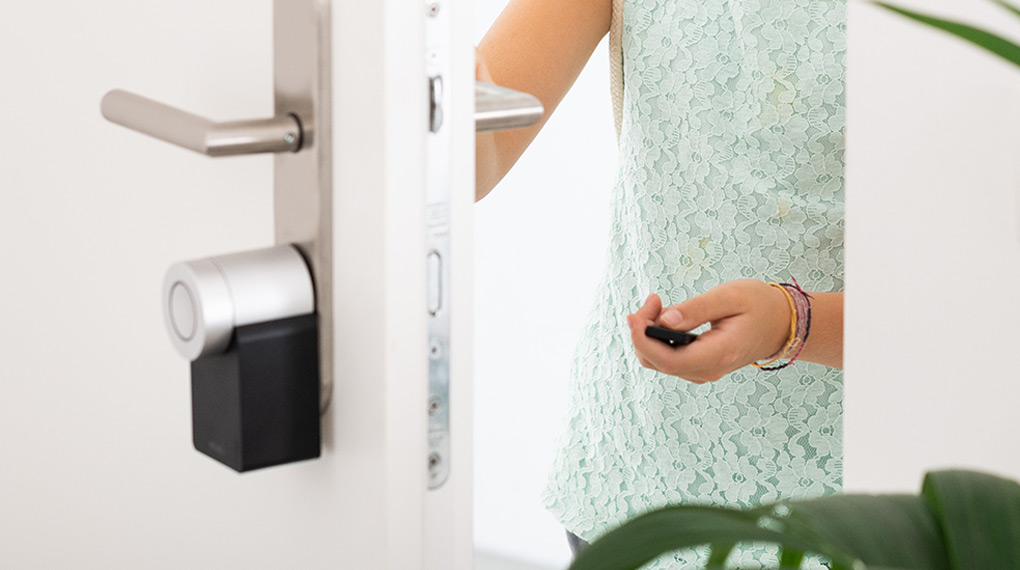 Mogelijkheden en accessoires
De meeste slimme sloten kun je dus bedienen met je smartphone. Maar als je bijvoorbeeld kleine kinderen hebt die geen telefoon hebben en je wilt ze toch toegang geven, dan kun je ook gebruik maken van een keyfob. Dat is een soort afstandbediening met een knop. Als je dicht in de buurt van het slot bent en op de knop drukt, dan opent het slot. Maar er zijn meer mogelijkheden, sommige sloten hebben een extern toetsenbordje voor buiten, of een vingerafdrukscanner. Zo is er voor iedere behoefte een oplossing. Slimme deursloten kun je ook gebruik laten maken van je locatie. Dus als je de oprit op komt rijden ontgrendelt of opent het slot automatisch als je dat graag wil. Ook is het mogelijk om de deur op afstand te openen. Als je bijvoorbeeld ook een slimme deurbel hebt en je bent nog net tapas aan het kopen in de winkel terwijl je vrienden al aan de deur staan, dan kun je alvast de deur openen. Is dat niet handig?