Waarom Forest?
Het Forest systeem staat bekend om zijn luxe en kwaliteit. De Forest Shuttle is een op maat gemaakte elektrische gordijnrails met slimme motor geschikt voor links, rechts en middensluitende gordijnsystemen. Ook is het mogelijk meerde bochten in de rails te maken. Uitgerust met een getande kevlar riem ben je verzekerd van de hoogste kwaliteit. Het systeem werkt met een slow start en stop systeem waardoor het systeem geruisloos opent en sluit (<40dB). Ook is het eenvoudig met de hand te bedienen door een klein rukje aan het gordijn te geven. Als je bij ROBBshop een Forest shuttle systeem op maat laat maken krijg je er standaard een slimme z-wave motor bij waardoor het systeem te bedienen is met diverse smart home controllers
Alle Forest systemen worden in Nederland geproduceerd en worden geleverd met 10 jaar garantie.
Voordelen van slimme gordijnen
Een slim gordijn systeem zorgt voor luxe, comfort en veiligheid. Door het Forest systeem te koppelen aan een smart home controller zoals de Homey Pro, haal je meer uit het systeem. Zo kun je de gordijnen eenvoudig bedienen via een app maar kun je ook allerlei scènes instellen waardoor je gordijnen automatisch openen en sluiten. Denk bijvoorbeeld aan gordijnen die in de ochtend langzaam open gaan als de wekker af gaat. Koppel diverse sensoren zodat je de gordijnen automatisch kunt laten sluiten als er te veel zonlicht binnen komt of als het te warm wordt in huis. Of wat dacht je van een bioscoop scène waarbij je met 1 druk op de knop je lampen dimt, je gordijnen laat sluiten en je home cinema set activeert. Ben je echt lui, dan kun je natuurlijk ook vragen of Google de gordijnen voor je dicht doet.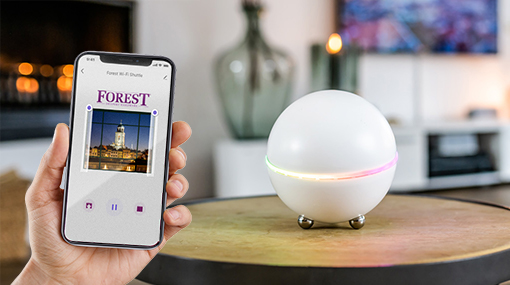 Beveilig je huis met slimme gordijnen
Naast luxe en comfort kan een slim gordijnsysteem ook bijdragen aan een veilig huis. Zo kun je als je op vakantie bent de gordijnen op willekeurige tijden open en dicht laten gaan zodat het lijkt alsof er iemand thuis is. Breidt dit verder uit met slimme verlichting zodat de lampen ook aan gaan in de avond en je huis is weer een stukje veiliger.
Neem een kijkje bij onze slimme smart home projecten om te zien wat er allemaal mogelijk is